Progress update: Northeast Spring Boulevard-area utility relocation
Body
Sound Transit is sending subscribers of BelRed project updates this project update on behalf of Puget Sound Energy/Potelco. Puget Sound Energy and its crews are working on electrical systems in the BelRed area in conjunction with Sound Transit on the East Link Extension project.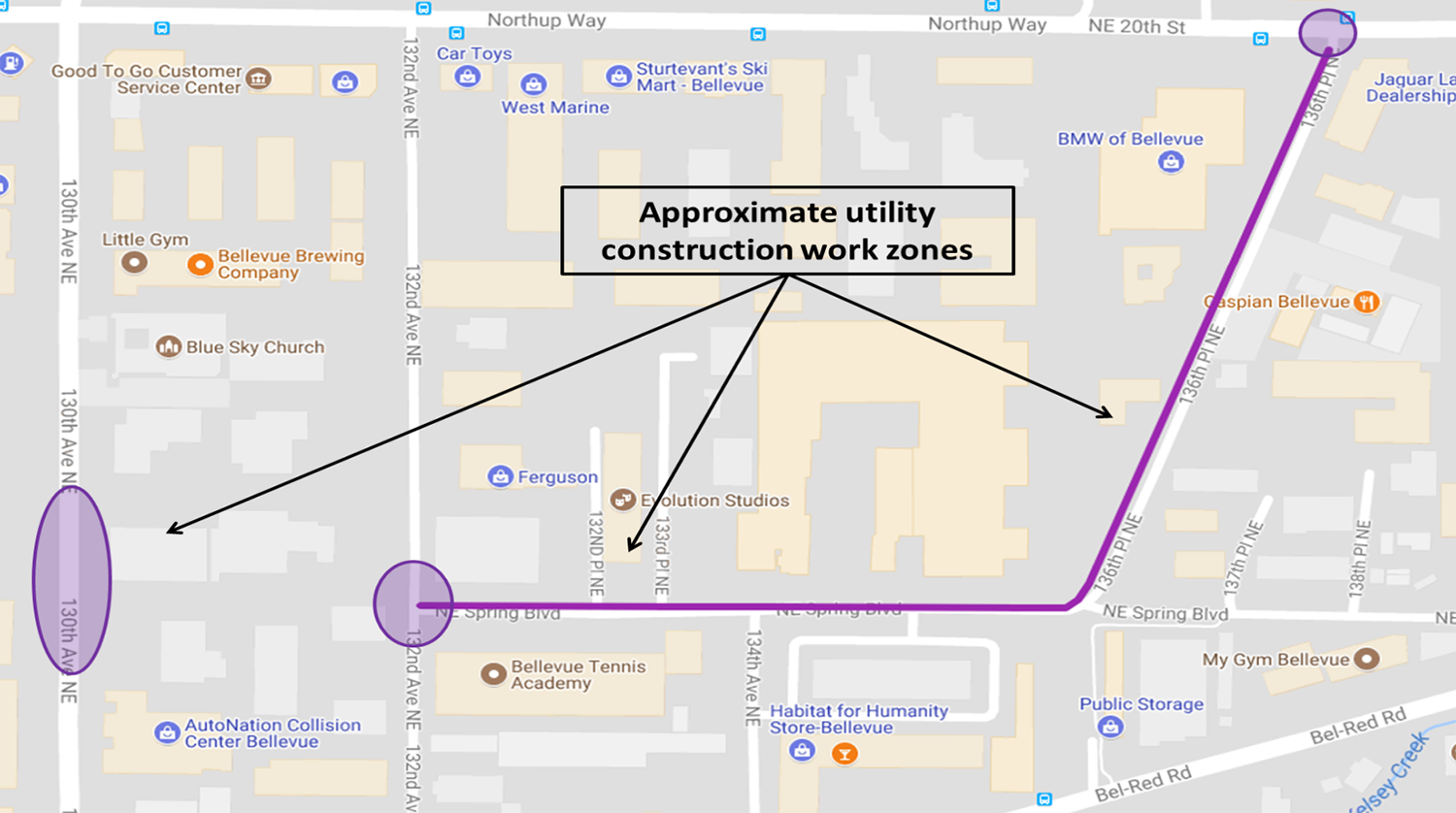 As you may know, Puget Sound Energy crews have been working on the electrical system in the Bel-Red neighborhood in conjunction with Sound Transit's upcoming East Link Extension Light Rail project. Our crews continue to make good progress and are now installing new underground electrical wire along Northeast Spring Boulevard and 136th Place Northeast.
We are committed to completing our work safely and efficiently, and our crews will do their best to reduce impacts to nearby neighbors. However, there may be some noise and temporary traffic disruptions in the project area. Please see below for project details.
Project details
Who: Electric crews from PSE and Potelco
What: Undergrounding sections of the existing above-ground electrical infrastructure, and relocating select utility poles and related electrical equipment
Where: Portions of 130th Avenue Northeast, Northeast Spring Boulevard and 136th Place Northeast (please see map on reverse for route details)
When: Work started the week of July 24 and is expected to last approximately five months
Typical work hours are Monday through Friday between 8 a.m. and 5 p.m.

Weekend work tentatively scheduled for mid- to late September at the intersection of Northeast 20th Street and 136th Place Northeast

Work schedule is weather dependent
What you can expect
Reduced travel lanes and temporary parking restrictions. Traffic control signs and personnel will guide vehicles and pedestrians safely through the work zone
There will likely be noise from trucks and heavy machinery
Some customers may experience a planned power outage as this portion of the work concludes later in September. We will work directly with all impacted customers prior to scheduling the outage in an attempt to minimize customer impacts
We are proud to serve in your community and thank you for your patience during this project. If you have any questions regarding PSE's work, please contact us at the phone number or email below and reference job number 111017546.
For more information on Sound Transit's East Link Extension Light Rail project, please visit the project website: /eastlink. You can also contact the project team at 206-398-5465 or eastlink@soundtransit.org.
Sincerely,
Josh Grenner, Project Manager
Bob Parker, Senior Project Manager
1-888-404-8773 | majorprojects@pse.com
pse.com/projectsmap