Project update: Northgate Link Extension
Body
Utility relocation work for future Northgate Station closing First Avenue NE at night 
Before Northgate Station construction can begin early next year, several utilities in the area need to be relocated or protected. As part of this effort, crews are working overnight on First Avenue NE between NE 95th Street and NE 100th Street. Drivers are being detoured around via Fifth Avenue NE from 7:30 p.m. to 5 a.m. Crews are working at night to minimize traffic delays at this busy stretch of road.
Tunneling update
Tunnel boring machine Pamela broke through the southern wall of the Roosevelt Station site on Monday, July 13. Crews are refurbishing the machine after her long trip from the Maple Leaf portal. Pamela is expected to begin the journey to the U District Station site by the end of summer. Tunnel boring machine Brenda is currently in the U District on her way toward the station site. Crews expect to complete that section of tunnel by fall.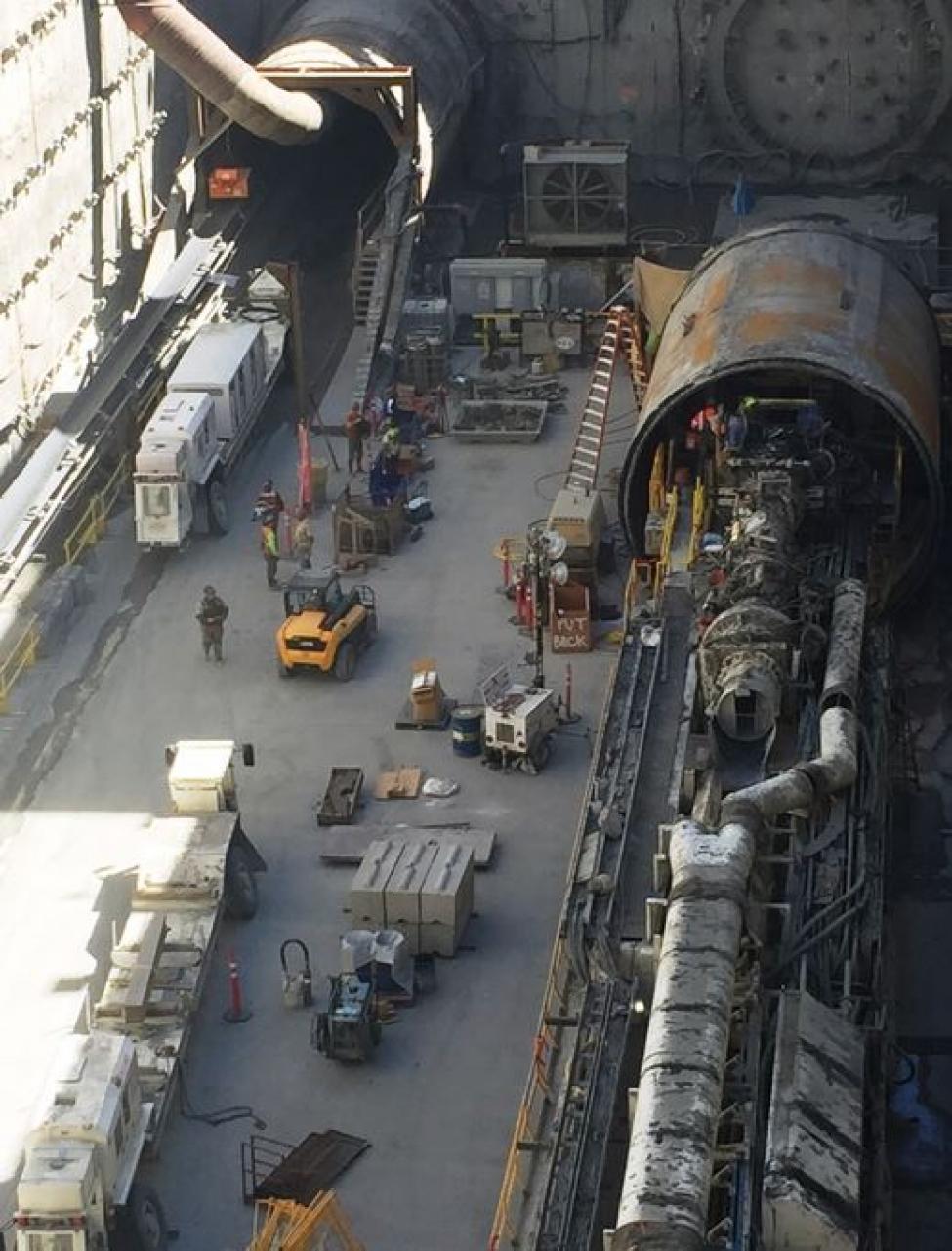 Photo caption: Tunnel boring machine Pamela is getting a make-over in Roosevelt
U District Station – getting ready for tunnel boring machines
Crews at the U District Station site are pouring concrete to form the bottom of the future light rail station. They'll pour two thick concrete layers for two different purposes. The first layer will serve as the foundation of the permanent station. A second temporary layer will support the tunnel boring machines as they move across the station. 
 
Besides pouring concrete, crews are installing a soil freezing system at the north and south ends of the station box before the tunnel boring machines arrive. The system uses a series of pipes and freezing brine to create a block of ice to further stabilize the soil just above the tunnels at the station.
Where can you find Sound Transit staff this month?
Sound Transit plans to attend the following community events in August:
U District Block Party on National Neighborhood Night Out, 6 – 9 p.m. Tuesday, Aug. 4 from 6-9 p.m. – NE 43rd Street between the Ave and Sound Transit's U District Station construction site.