Project Update: Tunnel boring machine heading to beneath UW campus
Body
Tunnel boring machine approaches UW campus
On June 14, Northgate Link Extension crews re-launched a tunnel boring machine from the U District Station site. The TBM is currently just south of NE 42nd Street. At its current rate, crews expect the TBM to enter ground below the UW campus in the next few weeks. It should complete its journey to a retrieval shaft just north of the University of Washington Station this fall.
Mining the tunnel and installing the concrete liners are just part of building each tunnel. Crews are also building 23 cross passages between the two tunnels, pouring concrete floors in the tunnels, installing conduit, and more.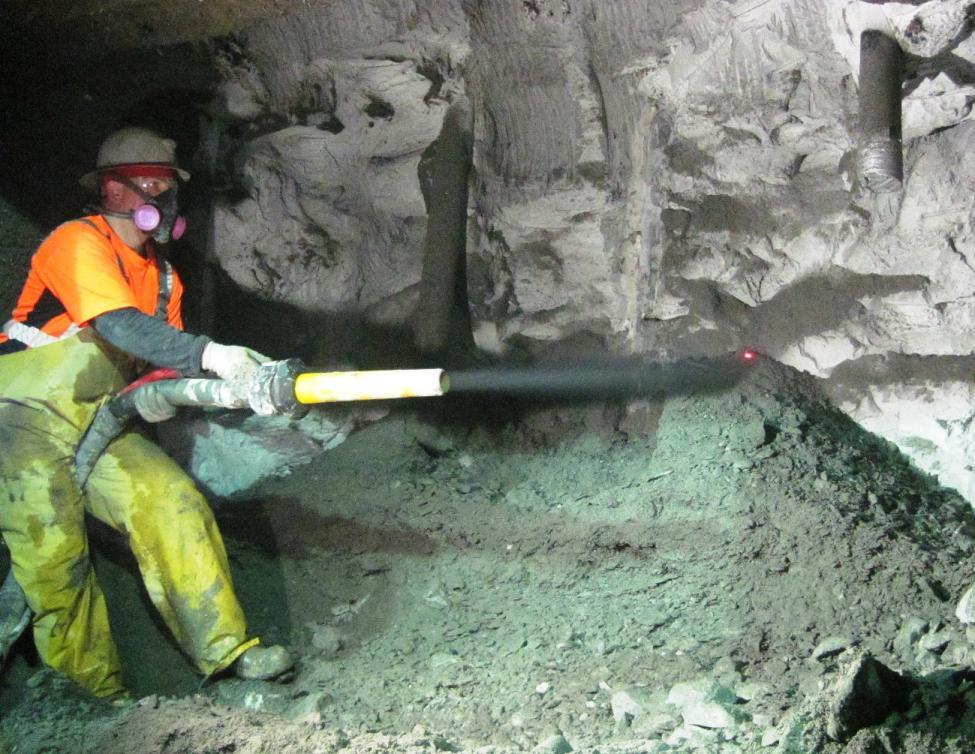 A miner stabilizes a newly excavated portion of the cross passage beneath NE 61st Street at 12th Avenue NE.
Electrical line relocation beginning soon near the future Northgate Station
Before construction begins for the future Northgate Station and its elevated guideway, an electrical line running along First Avenue NE needs to be moved to the west side of I-5. Sound Transit selected contractor Potelco for the project. Construction of the electrical line is expected to begin later this summer and should be complete by fall 2016.
Buildings to be demolished for Northgate Link
Work to demolish two buildings associated with the Northgate Link project is also set to start this summer.
Sound Transit hired Pellco Construction to demolish part of the former strip mall on First Avenue NE at NE 100th Street. The area will be used for temporary parking and staging during station construction. The remaining building will be used as office space through construction.
In addition, crews will soon remove the former Key Bank building on NE 45th Street at Roosevelt Way NE in the U District. Because the property was once a gas station, crews will also have to remove some contaminated soil. This site will be used for contractor parking and staging for construction of the future U District Station and will become surplus property when no longer needed for the project.
Geotechnical investigation along 12th Avenue NE
In May, residents of a home along 12th Avenue NE in the Roosevelt neighborhood noticed a sinkhole forming in their yard. Sound Transit's contractor quickly filled the hole and began drilling a series of probe holes in the area to determine the extent of any ground loss. Crews recently completed repairs at the sinkhole site and plan to continue to perform additional investigations to confirm ground conditions. Expect to see some additional periodic traffic revisions in the neighborhood just south of the Roosevelt Station over the course of the next few months.
Where can you find Sound Transit staff this month?
Sound Transit plans to be available for questions or comments at:
Maple Leaf Ice Cream Social – Wednesday, July 27, 5 – 8 p.m., Maple Leaf Park