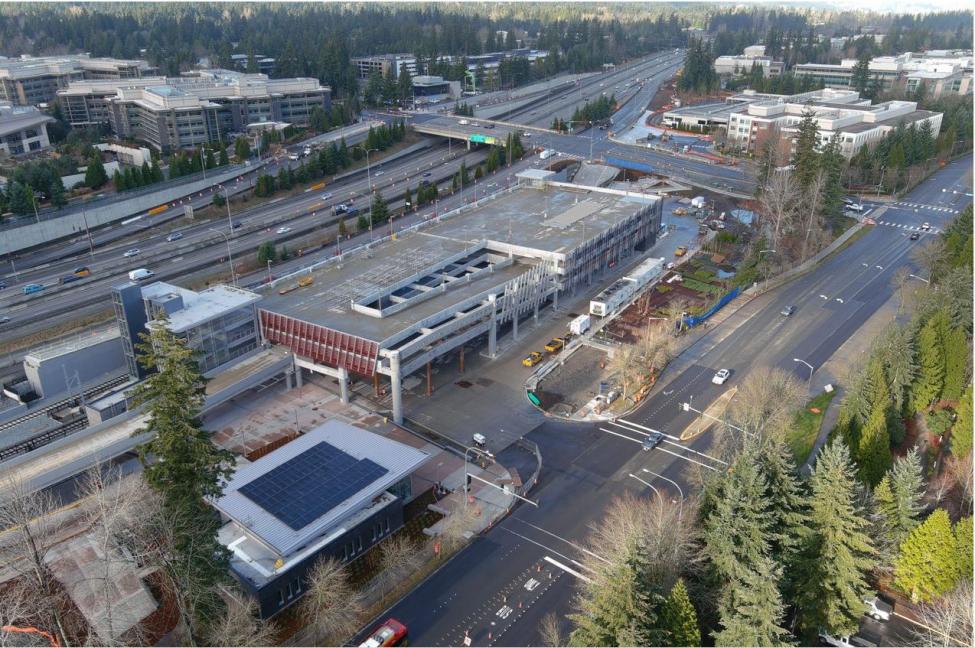 Redmond Technology Station Garage Update
As construction wrapped up on the new Redmond Technology Station parking garage last year, cracks were observed in some newly installed concrete beams. Sound Transit directed the design-builder, Kiewit-Hoffman Joint Venture, to cease all work on the facility and install temporary vertical supports beneath the cracking so the issues could be safely evaluated. 
2020 recap 
Since the discovery of this issue, Sound Transit staff and its outside structural engineering firm, CKC Structural Engineers, have completed a forensic analysis of the garage. CKC's analysis identified numerous deficiencies, which were confirmed by Kiewit-Hoffman and their consulting structural engineer, SGH. We are working with Kiewit-Hoffman to finalize the repair plan.
The proposed solution involves the demolition and reconstruction of the southeast section of the garage, which includes interior garage ramps. While not believed to pose an immediate risk, the deficiencies compromise the design life long-term maintainability of the structure. Other areas of the garage will receive additional strengthening and upgrades, including the seismic systems, and may require some demolition to integrate the new and existing work into a cohesive structure. 
Senior leadership from Kiewit-Hoffman have accepted responsibility for the design issues and the contractor will be responsible for all resulting cost impacts.  
What to expect in 2021
In the next few months, we expect to have the repair solution fully designed. The repair work will take approximately six months to complete, after Sound Transit reviews and approves the contractor's design solution and construction work plans. This schedule could shift if unanticipated conditions arise. The garage work is expected to be complete sometime within the first quarter of 2022.  
 
The repairs of the Redmond Technology Station garage will be complete well in advance of the opening of the East Link Extension and the light rail station. However, they may delay the opening of the transit bus loop at the station. Sound Transit is working closely with King County Metro, Microsoft, and the City of Redmond to mitigate and address concerns about bus operations.