Relocating Transmission Line to WSDOT property along the west side of I-5
Body
Relocating Transmission Line to WSDOT property along the west side of I-5
Sound Transit will relocate existing electrical transmission poles and lines along First Avenue NE to a new preferred route along the west side of I-5. The work is needed to accommodate construction of the Link light rail elevated guideway for the Northgate and Lynnwood Link extensions. We appreciate the on-going interest in this project and thank any affected residents for their continued patience as we move forward with the I-5 alternative.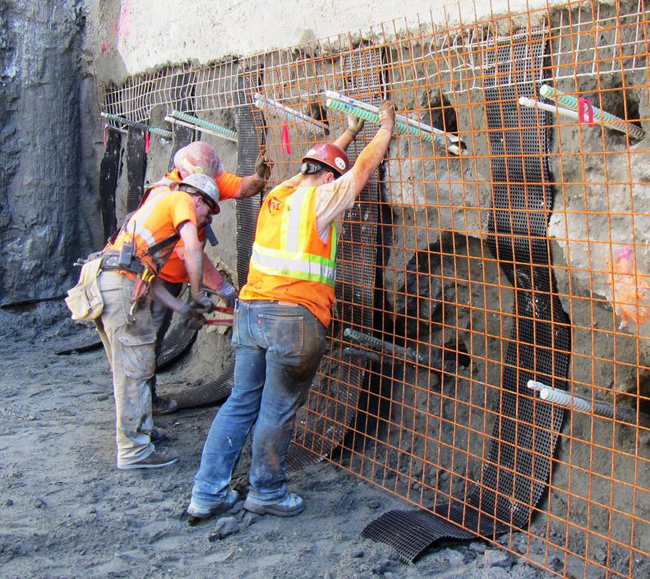 Photo caption: Crews are wrapping up excavation at the U District Station site with less 10 feet to go before reaching the bottom of the light rail station box
Night work continues on Northgate utility relocation project
Crews relocating utilities ahead of the start of construction on the Northgate Station will continue working at night through July. Next month, vault excavation and installation will start on NE 103rd Street between First Avenue NE and Third Avenue NE. Expect nighttime lane closures and occasional detours at this location through July.
Tunneling update
The two tunnel boring machines are making good progress. Brenda is currently near NE 52nd Street in the U District and Pamela just south of NE 70th Street. Brenda is expected at U District Station in late summer/early fall and Pamela could arrive at Roosevelt Station in July.
Where can you find Sound Transit staff this month?
Sound Transit plans to attend several community events this spring and summer. Stop by to ask questions or get project information at the following events in July:
Roosevelt Neighborhood Bull Moose Festival - Saturday, July 25- 9-3 p.m. - NE 68th Street and Roosevelt Way NE
Maple Leaf Ice Cream Social – Wednesday, July 29 – 6:30 – 8:30 p.m. – Maple Leaf Park Family Terrace.
Get ready for more light rail—and new and better signs along the way.
When University Link opens in early 2016, Sound Transit will unveil improved signage throughout the entire light rail system. That includes the Angle Lake Station at South 200th Street which opens later in 2016 as well as the Northgate Link Extension with its U District, Roosevelt and Northgate stations opening in 2021.
The East Link and Lynnwood Link extensions, opening in 2023, will also receive the new-look signage with simplified easy-to-read route maps showing riders how to get around. The improvements include upgraded and easy-to follow maps at station ticket-vending machines.
Pictograms, which are also part of all current and future light rail stations, are visual tools that quickly tell travelers where they are on the line. Finally, look for changes in the actual names of the light rail lines. For example, the Link line between Northgate and South 200th becomes the "Red Line." Trains running between Northgate and Overlake in East King County will be the "Blue Line."
The Red Line/Blue Line names, along with the improved signage, will make it easier for riders to get around.