REMINDER: Closure on 110th Ave NE in downtown Bellevue begins Monday
Body
On June 13, Sound Transit's contractor will close a portion of 110th Avenue NE between NE 4th Street to NE 6th Street in order to prepare the soil underneath the roadway for tunneling. The work will allow for the replacement of the current, loosely compacted soil in favor of a denser material more appropriate to tunnel through. The work area will eventually become part of the north tunnel portal. The closure on 110th Avenue NE will occur in two phases:
Phase 1 (approximately mid-June to late-July): scheduled to last approximately five weeks, will require the closure of all lanes on 110th Avenue NE in the work area (illustrated below) from NE 6th Avenue to just past the 110th Avenue NE entrance to the City Center Plaza garage.
Phase 2 (approximately late-July to early-September): phase 2 will see the western-most lane reopened to southbound traffic. Southbound traffic will be able to enter both the City Center Plaza and Skyline building garages, but vehicles must exit southbound on 110th Avenue NE as well.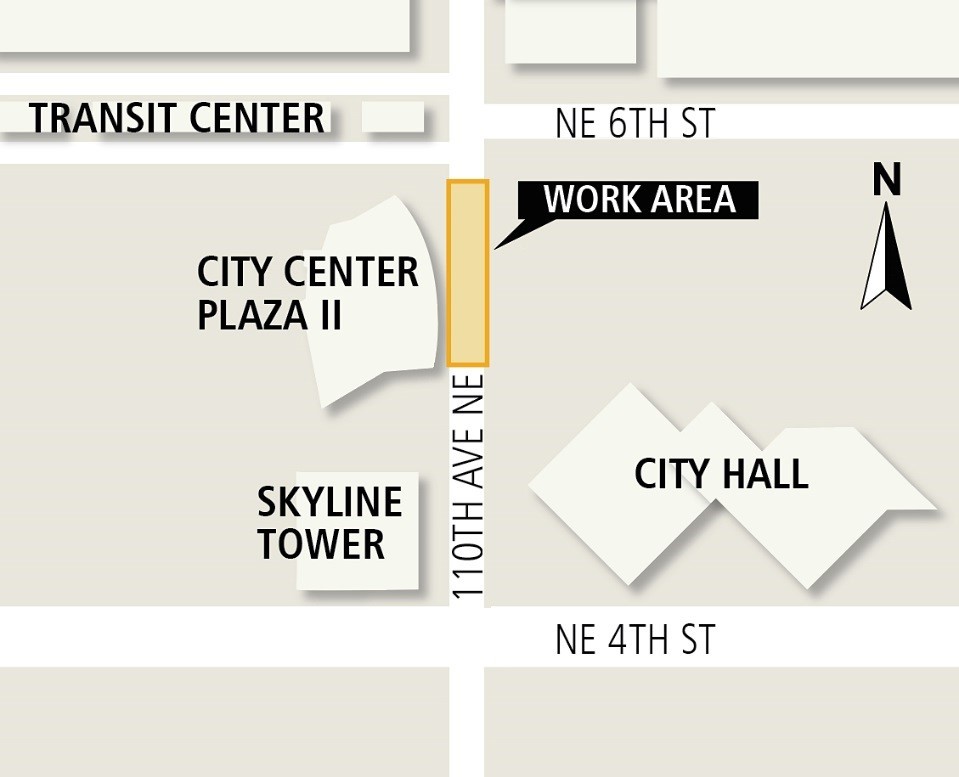 What to expect:
Work between 7 a.m. and 8 p.m., M-F.
Signage prohibiting vehicles and pedestrians from entering the work area. 
Vehicle access to Skyline Tower, City Center Plaza and Bellevue City Hall will be restricted to a right turn only from westbound NE 4th Street. 
The sidewalk on the western side of 110th Avenue NE between NE 6th Street and NE 4th Street will be closed. The sidewalk on the east side of the street will remain open. 
The Bellevue Transit Center will remain open. 
A safe and secure work area at all times.
UPDATE: Also this weekend, Puget Sound Energy will relocate a natural gas service line on 110th Avenue NE between NE 4th Street and NE 6th Street. Work will be performed between 9 am and 6 pm. Traffic control will be in place as early as 7 am and as late as 7 pm both northbound and southbound along 110th Avenue NE. Vehicle and pedestrian access to all buildings in the area will remain open at all times. Noise impact activities including pavement saw cutting and removal will be performed on Saturday. 
For more information