Restoration begins at NE 65th St./12th Ave. NE in Roosevelt
Body
Sound Transit's Roosevelt Station construction contractor will begin restoring the intersection of NE 65th Street and 12th Avenue NE as soon as Jan. 20. Crews will replace the roadway, curbs, gutters and sidewalks. This work is expected to take up to six months to complete depending on weather.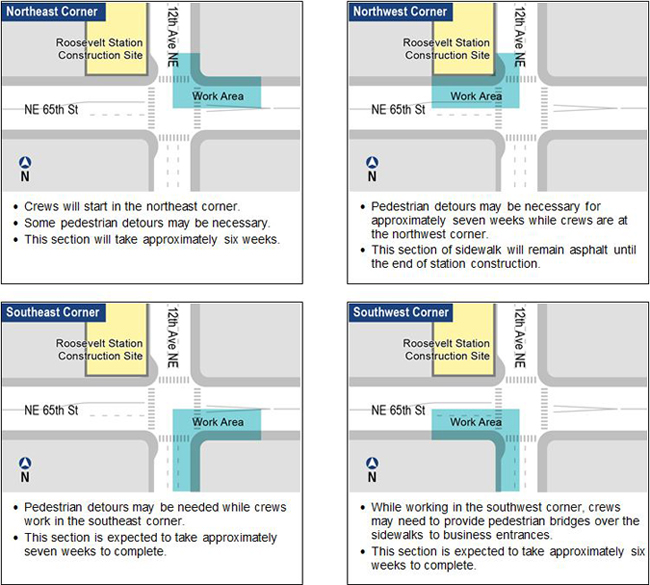 Keeping traffic moving
In addition to the restoration work at the four corners, crews will place a final layer of asphalt and paint permanent stripes on the road starting in spring.
Construction crews will maintain at least one lane in each direction at all times. Drivers should be prepared to follow occasional signed detours.
Parking closed on NE 65th Street
To keep traffic open in all directions, parking will be closed on NE 65th Street between Roosevelt Way NE and Brooklyn Avenue NE for the entire restoration project.
Why is Sound Transit restoring the intersection?
Repeated trenching for earlier utility relocations required many parking and traffic restrictions at the intersection. Utility relocation work ended in fall 2014. By this summer, crews will return the intersection to its final configuration. Drivers will once again be able to turn left from eastbound NE 65th Street to northbound 12th Avenue NE.