Road Closure on JC Penney Mall Loop Road - Access Northgate Mall Park & Ride Garage on NE 103rd St
Body
There will be a road closure at Northgate Mall loop road on the SW corner near the JC Penney lot (see map) on Monday, July 23 and Tuesday, July 24. Both entrances to the Park & Ride garage will remain open but the loop road west of the garage will be closed.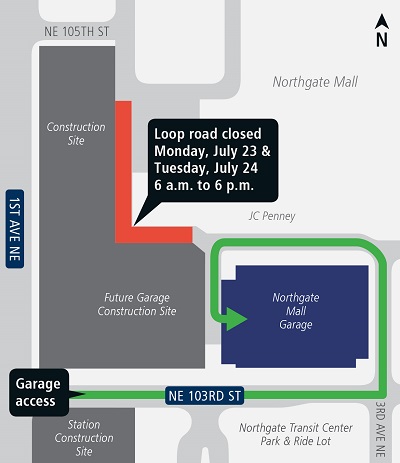 This is to allow Sound Transit's contractor to install segmented panels for one of the stormwater detention vaults.
Access to both NE 103rd St Park and Ride garage entrances will be maintained.

What to expect:
Monday July 23 and Tuesday July 24

Work Hours: 6:00 a.m. – 6:00 p.m.

Traffic Impacts:
Closure of SW corner of Mall Loop Road near JCPenney (see map).
Construction activities: Installation of segmented panels for a stormwater detention vault.
Construction equipment: Cranes, flatbed trucks, front end loaders.

Sound Transit's Contractor has received a temporary noise variance permit for this work.

What is Sound Transit building?
The Northgate Link Extension will connect the Northgate, Roosevelt and U District neighborhoods to downtown
Seattle and Sea-Tac Airport. Fast, reliable service will provide relief to one of the region's most congested traffic
areas. The 4.3-mile extension is expected to be open for service in 2021.