Roadway bridge construction under way on Northeast 43rd Street between Brooklyn and the alley west of the "Ave"
Body
Construction crews building the U District Station are installing a temporary roadway bridge along Northeast 43rd Street between Brooklyn Avenue Northeast and the alley just west of University Way Northeast, the "Ave." The bridge will accommodate one-way eastbound traffic along Northeast 43rd Street during construction of the light rail station.
How the bridge is built  
Crews are currently excavating the light rail station box and building the foundations for the bridge (bridge abutments). The next stage of bridge construction will be placing steel girders. Girders provide the structural foundation for the roadway bridge.  
Nine 30-foot-long steel girders will be delivered to the site using flatbed trucks. The trucks will be located on Northeast 43rd Street on both the east and west sides of the construction site. The girders will be lifted and set into place using a crane. The deliveries will take place over the course of about a week.  
Northeast 43rd Street between Brooklyn Avenue Northeast and the alley is anticipated to re-open to one-way traffic after the bridge and other work in this area is completed in spring 2015.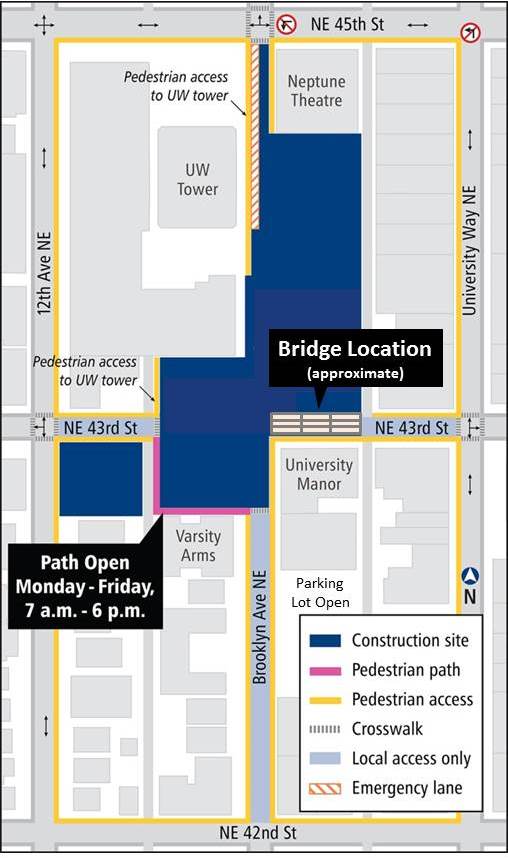 What to expect in October 2014:


Crane.

A large crane will be used to place the girders. The crane will be located in the light rail station site in the excavation area.

Access impacts along Northeast 43rd Street. Large flatbed trucks will deliver the girders. This will require temporary, short-term closures of Northeast 43rd Street between the alley and University Way Northeast while the girders are being placed.  

The roadway closure along this block is anticipated intermittently while beams are being unloaded from the trucks. "No Parking" signs will be used on Northeast 43rd Street during these hours. A police officer and flaggers will help the trucks and motorists through the area. The sidewalk along Northeast 43rd Street will remain open during this work.  

Construction vehicles will also intermittently use Northeast 43rd Street east of the alley to pour concrete during bridge construction.