Roosevelt Station - Early morning concrete pour and work schedule update
Body
In order to remain on schedule and complete all concrete pour work in May, as anticipated, Sound Transit's contractor will be making a couple of changes to their work hours at Roosevelt Station. Below are two changes occurring in the upcoming weeks.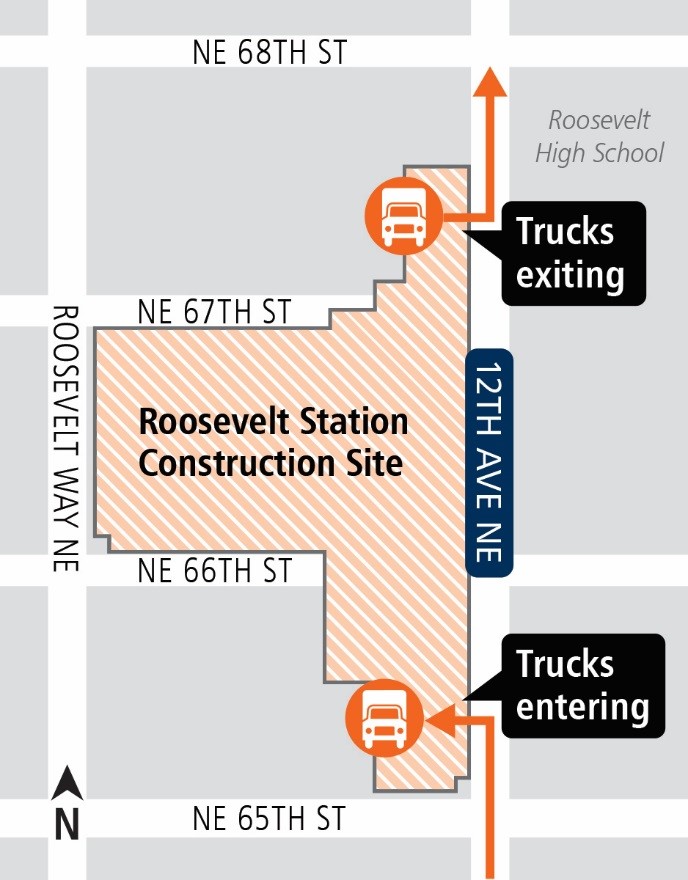 Week of Monday, Jan. 22nd
Work activities: Early morning concrete pour. Trucks will frequently enter and exit the site (see map).
Permitted start times: Monday – Friday: setup as early as 4 a.m., pour as early as 5 a.m. The temporary noise variance permit from the City of Seattle is valid through Friday, Jan. 26th.
Traffic impacts: None, all work done on-site.
Construction activities: Setting up the concrete pump, trucks entering and exiting the site, tower crane moving equipment. The contractor will install sound barriers around the concrete operation to help keep noise to a minimum.
Equipment: Concrete pump truck, concrete trucks, tower crane.
*Work is weather dependent. Notices will be resent for any schedule changes.
Now through February
Work hours:
Monday – Friday: 7 a.m. – 10 p.m.;
Saturdays: 9 a.m. – 10 p.m.