Sidewalk to close between Brooklyn Avenue NE and the alley west of University Way NE this weekend, June 21-22; Kicks-off 7-month roadway closure
Body
Construction crews building the U District Station will be removing old electrical utilities along NE 43rd Street between Brooklyn Avenue NE and University Way NE beginning Friday, June 20.
The contractor has received a noise variance from the City of Seattle to perform this work from 7 am to 10 pm on June 21-22. High impact noise work (ex: sawcutting, jackhammering) will be performed between 9 am and 5 pm.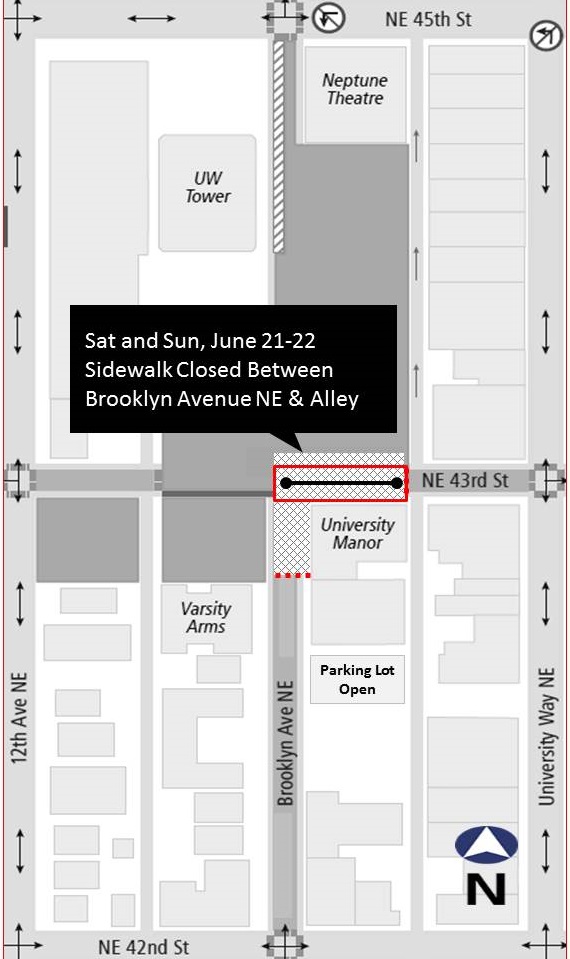 About the Work
Crews are removing an old electrical ductbank that has been providing residential and commercial power by Seattle City Light. A new replacement ductbank was installed earlier this spring. Like many older utilities located throughout the City, the ductbank pipes are lined with asbestos. Therefore, crews are required to follow certain standard procedures during its removal:
The work zone will be sectioned off from direct public access. Crews will place caution tape around the area. 
Crews will remove the pipes and materials, move them to lined disposal containers, and haul away materials to an approved disposal site.
This work is being performed by certified crew members. All work will be supervised to ensure that the proper procedures are being followed.
This procedure for removing asbestos-lined pipe and materials is in accordance with local, state and federal regulations. If you have any questions or concerns regarding the handling of asbestos, please contact the Puget Sound Clean Air Agency at (206) 343-8800. 
Pedestrian Access  
The sidewalk along NE 43rd Street between Brooklyn Avenue NE and the alley west of University Way NE will be closed on Saturday and Sunday, June 21-22. The sidewalks along NE 43rd Street between University Way NE and the alley will be open during this work. Pedestrians may use University Way NE to NE 42nd Street or NE 45th Street to get around construction. Brooklyn Avenue NE and the alley will be open south of NE 43rd Street. The Ugly Mug Café will be open on Saturday.
What to Expect
Equipment including trucks, excavators, jackhammers, compaction equipment, and vactor trucks
Noise from breaking up and removing asphalt and materials along NE 43rd Street
Excavated trench within the roadway along NE 43rd Street between Brooklyn Avenue NE and the alley west of University Way NE
Noise from the placement of metal plates on the roadway
Dust resulting from backfilling the roadway trench 
Crews will work to minimize noise, dust, and debris to the extent possible.
Motorist Access  
This work begins the approximate 7-month closure of NE 43rd Street between Brooklyn Avenue NE and the alley west of University Way NE. This section of roadway will be closed to motorists at all times while crews install shoring walls and build a temporary roadway bridge. Pedestrian access will be maintained during this roadway closure.
U District Station
The U District Station is under construction on Brooklyn Avenue NE between NE 45th and NE 43rd streets. The station is part of the future 4.3-mile Northgate Link Extension connecting Northgate, Roosevelt, and U District neighborhoods to downtown Seattle and Sea-Tac Airport.
For More Information:
Phone: (206) 398-5300
Email: northlink@soundtransit.org
Construction Hotline: For issues that need immediate attention after normal business hours, call Sound Transit's 24-hour construction hotline: 1 (888) 298-2395.