Sidewalk trench work on NE 67th Street
Body
As soon as Monday, Aug. 18, construction crews working for Sound Transit will begin a project to install a drainage line from the Roosevelt Station site to a sewer line in NE 67th Street. The project is expected to take up to three weeks. Crews plan to work from 8 a.m. to 5 p.m. weekdays.
Crews will begin just east of Roosevelt Way NE and will work westward. Crews will reduce Roosevelt Way NE at NE 67th Street to one lane from 9 a.m. to 3 p.m. for approximately two days the week of Aug. 18.
Once west of Roosevelt Way NE, crews will trench down south sidewalk on NE 67th Street. The sidewalk and parking lane will be closed on the south side of the street during work hours.
Crews will maintain access to residents and businesses at all times, however, trenching operations may require crews to move a steel plate into place as needed. Drivers should expect minor delays when entering and exiting during work hours.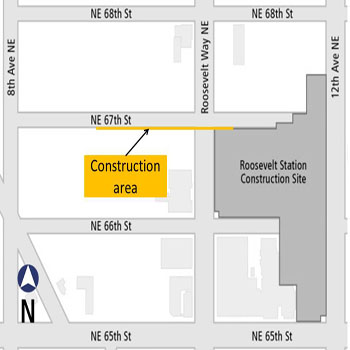 24-Hour Construction Hotline:  1-888-298-2395
For information in other languages: