Site preparation in BelRed
Body
Over the course of the next few weeks, you may begin to notice some changes in BelRed between 124th Avenue Northeast and Northeast 20th Street. Sound Transit's contractors will begin to prepare some portions of the construction work zones outside of public right-of-way for East Link construction. Typical construction work hours are from 7 a.m. to 6 p.m. Monday through Friday and as needed on Saturdays from 9 a.m. to 6 p.m.
What to expect:
Fence installation
Beginning the week of May 1, you may begin to notice fencing being installed near 124th and 130th Avenues Northeast, and other areas throughout the corridor. Fencing will provide safe work zones for clearing and demolition of structures within Sound Transit's work zones later this year.
Utility relocations along NE Spring Blvd and 136th Place NE
Sound Transit is working with power and communications utilities, Puget Sound Energy, Comcast and Century Link to coordinate installation of temporary utility poles along NE Spring Boulevard, 136th Place Northeast and on 130th Ave Northeast. This work is anticipated to begin as early as late-May.
More than 30 temporary poles will be installed along the roadways in preparation for East Link light rail heavy civil construction activities in this area. Temporary poles will be in place for approximately 2.5 years until service is changed over to new permanent service that will be installed as part of this project.
Further notification will be provided before this work begins.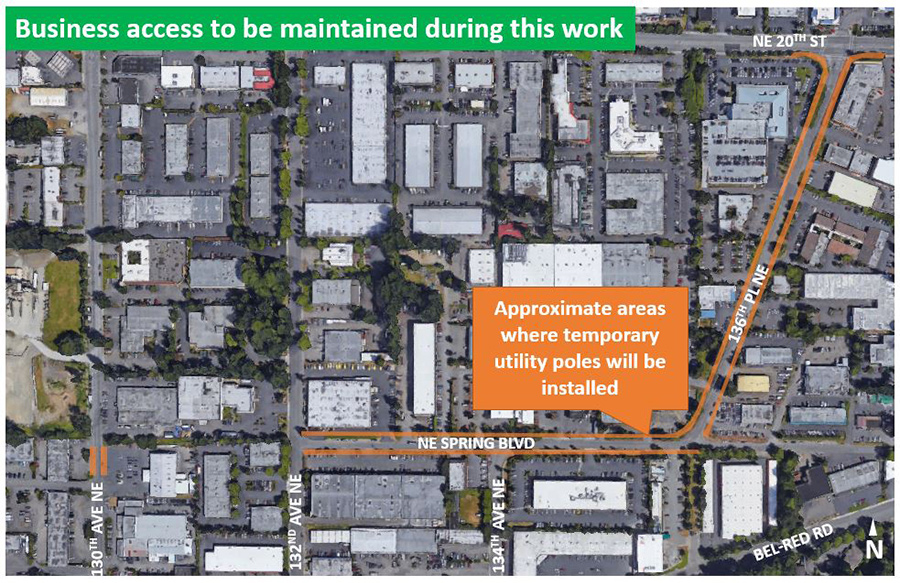 Meet the contractor open house: June
Sound Transit's contractor is developing a construction schedule for work occurring this summer for the portion of the project between 124th Avenue Northeast and Northeast 20th Street in BelRed. Sound Transit will host a Meet the Contractor Open House in June to share information about East Link construction activities. Stay tuned for the open house date and location announcement via electronic newsletter.