Thank you for your feedback regarding Auburn Station access improvements
Body
Thank you for your participation and feedback throughout the alternatives development and evaluation phase of the Auburn Station Access Improvements Project! More than 120 people attended project open houses in February and September. Your input helped Auburn City Council and the Sound Transit Board of Directors identify a preferred package of access improvements to the Auburn Sounder station.
Sound Transit Board identifies Preferred Alternative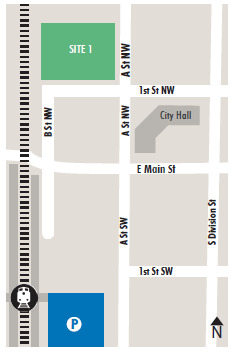 On Nov. 16, the Sound Transit Board identified preferred alternatives for the Kent and Auburn Station Access Improvements Projects. The preferred alternatives include a location to build an additional parking garage and a suite of access improvements for pedestrians, bicyclists and transit riders in each city.
In Auburn, the Sound Transit Board identified parking garage site 1 at the 1st Street Northwest and B Street Northwest parking lot. The garage is estimated to add approximately 500 new parking spaces. The board also identified a proposed package of pedestrian, bicycle and transit access improvements. The board prioritized projects as the most effective at improving nonmotorized access to the station, though the projects themselves may change during design and environmental review.
"I am very pleased that the needs of South King County transit riders are being addressed by Sound Transit," said Sound Transit Boardmember and Auburn Mayor Nancy Backus. "Many members of the community got involved in the planning process, and they can feel proud that their input helped shape the improvements at these stations that will benefit the region for years to come."
Next steps
With the identification of a Preferred Alternative, Sound Transit will move the project forward to prepare for preliminary engineering and environmental review. Please stay tuned for future opportunities to provide input.
Project background
Voters approved the Auburn Station Access Improvements Project in the 2008 ballot measure to expand mass transit throughout the region. The economic recession forced suspension of funding in 2010, but the Sound Transit Board restored funding in 2016. Improving easy and reliable access to the station for all users will be necessary as ridership and service increase.
For more information about the selected improvements, feel free to read the press release or visit the project website at www.soundtransit.org/Projects-and-Plans/auburn-station-access-improvements-project.