Tunneling for Northgate Link nears completion
Body
Northgate Link is poised to reach a major milestone in the next several days. Once the tunnel boring machine (TBM) mining the southbound tunnel arrives at the University of Washington Station, all six tunnel segments on the project will be complete. Stay tuned for more as the TBM approaches its destination.
Former Key Bank building demolition underway in U District
Demolition and site work at the former Key Bank building in the U District is well underway. Crews are currently sorting and salvaging building materials. In the following weeks, the contractor will begin excavation. Because the property was once a gas station, crews will have to remove some contaminated soil. After soil is removed and the site is restored, the area will be used for contractor parking and staging for construction of the future U District Station.
Northgate Station construction contract awarded
On Thursday, Aug. 25, the Sound Transit Board awarded the Northgate Station construction contract to Absher Construction Company. Absher will build the elevated station to be located east of 1st Ave NE, spanning NE 103rd Street. The contract also includes 0.8 mile of elevated guideway and tail track construction and a 450-stall parking garage for transit use.
Station entrances will be near the Northgate Mall north of NE 103rd Street and near the current Northgate Transit Center south of NE 103rd Street. This station will provide convenient bus transfers at a new transit "island" below the station and is designed to accommodate a mezzanine connection from the proposed I-5 pedestrian bridge. The station will also provide good access to the Northgate Mall, adjacent park-and-ride facilities, North Seattle College and nearby homes and businesses. Absher is expected to begin construction on the elevated guideway and station this fall.
Northgate electrical line relocation update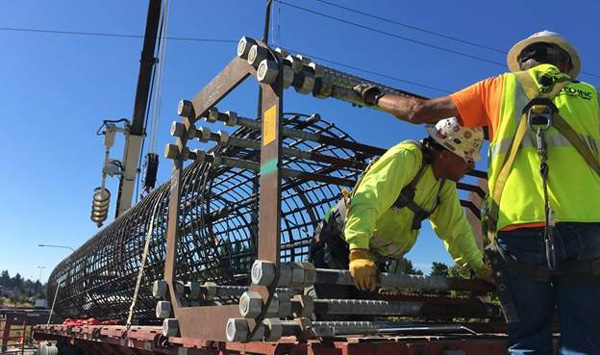 Crews build rebar cages for pole foundations west of I-5 in the Northgate area.
In order to make way for construction of Northgate Station and elevated guideway an electrical line running along First Ave NE needs to be moved to the west side of I-5. Crews are making good progress drilling the shafts for the new electrical pole foundations. Currently, six of the eight shafts have been drilled and the remaining two will be completed later this summer.