University District Neighborhood Construction Update
Body
As early as Thursday July, 5, you will begin to see the next stage of changes around the U District Station site. The contractor is preparing to install the underground roof of the building under NE 43rd Street and finish the station. Below are the changes that will take place to accommodate these activities:
What to expect:
The southern part of the alley between NE 43rd and NE 45th Street will be closed (see map). This will allow the contractor to shift the existing construction wall into the alley to finish construction of the U District Station.
There will be a 7ft. walkway left in the alley for pedestrians.
Businesses will continue to place their garbarge into their trash recipicals and the contractor will move the containers down to NE 43rd Street on their pick-up days.
The pedestrian pathway around the U District construction site will remain open during the week.  (7am – 6pm). 
Work Hours: 7:00 am – 3:00 pm Monday – Friday for the removal of the sound wall.
Work Activities: Sawcutting, jack hammering, removal of sound wall.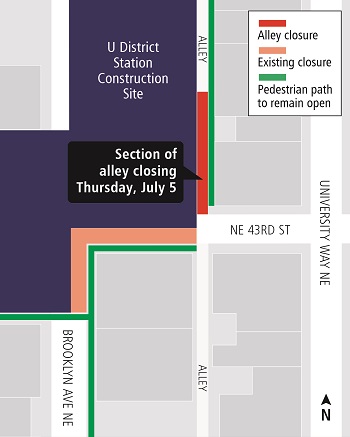 The Northgate Link Extension will connect the Northgate, Roosevelt and U District neighborhoods to downtown Seattle and Sea-Tac Airport. Fast, reliable service will provide relief to one of the region's most congested traffic areas. The 4.3-mile extension is expected to be open for service in 2021.