University District Neighborhood Construction Update
Body
Major Changes to the U District Station site from June 2018 – July 2019
As early as Saturday,  July, 21 and Sunday, July 22, you will begin to see the next stage of changes around the U District Station site. The contractor is preparing to remove the temporary bridge girders that supported the temporary street NE 43nd in front of U Manor Apartments.  Below are the changes that will take place to accommodate these activities:

What to expect:
Work Hours: 5:00 am – 5:00 pm Saturday – Sunday for the removal of the girders.
Crane will be set up 5:00 am and work will not start until 9 am and will conclude at 5 pm.
Crane will be dismantled on Sunday at 9 am.
Work equipment: Crane, trucks, grinders, impact wrenchs, jackhammers.
There will be additional noise while this work is going on.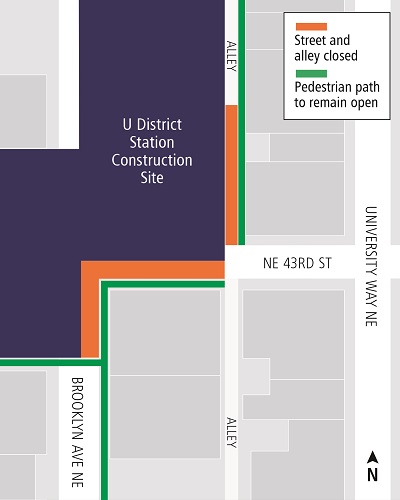 The Northgate Link Extension will connect the Northgate, Roosevelt and U District neighborhoods to downtown Seattle and Sea-Tac Airport. Fast, reliable service will provide relief to one of the region's most congested traffic areas. The 4.3-mile extension is expected to be open for service in 2021.