University of Washington Station VIP Tour!
Body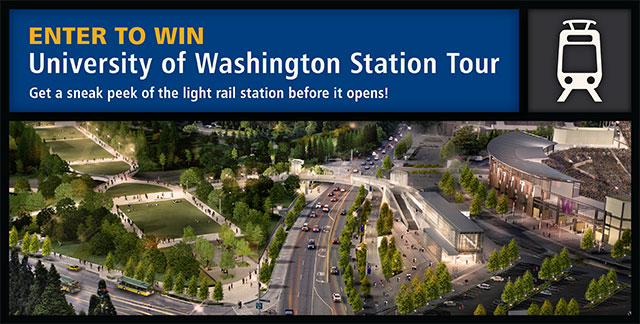 Shop or dine at a *participating U District or Roosevelt business and enter to win a behind the scenes Sound Transit VIP Tour of the University of Washington light rail station.
To be eligible, you must spend at least $5 and complete an entry form at one of the participating businesses. You can enter every time you visit. You must be at least 18 years old.
A drawing will be held in May 2015 to select the winners. You will be notified by email or phone. No entry form information will be sold to an outside party and this prize has no cash value.
The University of Washington Station is part of University Link Extension  opens in 2016! Be one of the first to visit the station.
*U District participating businesses:
Brooklyn Avenue Dental
Cedars of Lebanon
Flower's Bar and Restaurant
Haagen Dazs
Kai's Bistro and Lounge
My Favorite Deli
Nasai Teriyaki
Neptune Music Company
Samir's Mediterranean Grill
Ugly Mug Café
Roosevelt participating businesses:
East West Bookstore
Health Mutt
Nature Nails and Spa
Pies and Pints
Roosevelt Vacuum
Shoe Advantage
Sport Clips
Subway 
Taco Del Mar
Teddy's 
The Yogurt Way
Thrive 
Toronado
UPS Store 
For more info email, northlink@soundtransit.org.