UPDATE: Extended night-time closure on portion of Northeast 65th Street near 12th Avenue Northeast
Body
What
Extended closure of westbound lanes of Northeast 65th Street near 12th Avenue Northeast on Monday night, Dec. 17, through Monday night, Jan. 14, 2019 while the contractor performs trench work and utility installation. The contractor has obtained a Temporary Noise Variance to do this work
When
Monday night, Dec. 17, 2018 through Monday night, Jan. 14, 2019 from 7 p.m. – 5 a.m. 
Where
Closure of westbound lane on portion of Northeast 65th Street and left lane on Portion of 12th Avenue Northeast (see map).
More
A Temporary Noise Variance (TNV) has been issued.
Trench work will have loudest impact will occur between 7 p.m. – 10 p.m.
Sidewalk on north side of Northeast 65th will be closed. A portion of the sidewalk and road will be closed on 12th Avenue Northeast as well per the approved Traffic Control Plan.
Seattle Police Officers and flaggers will be present to alternate traffic.
Plan ahead, leave early and allow extra time to reach your destination.
Due to inclement weather or unforeseen issues, dates and times are subject to change.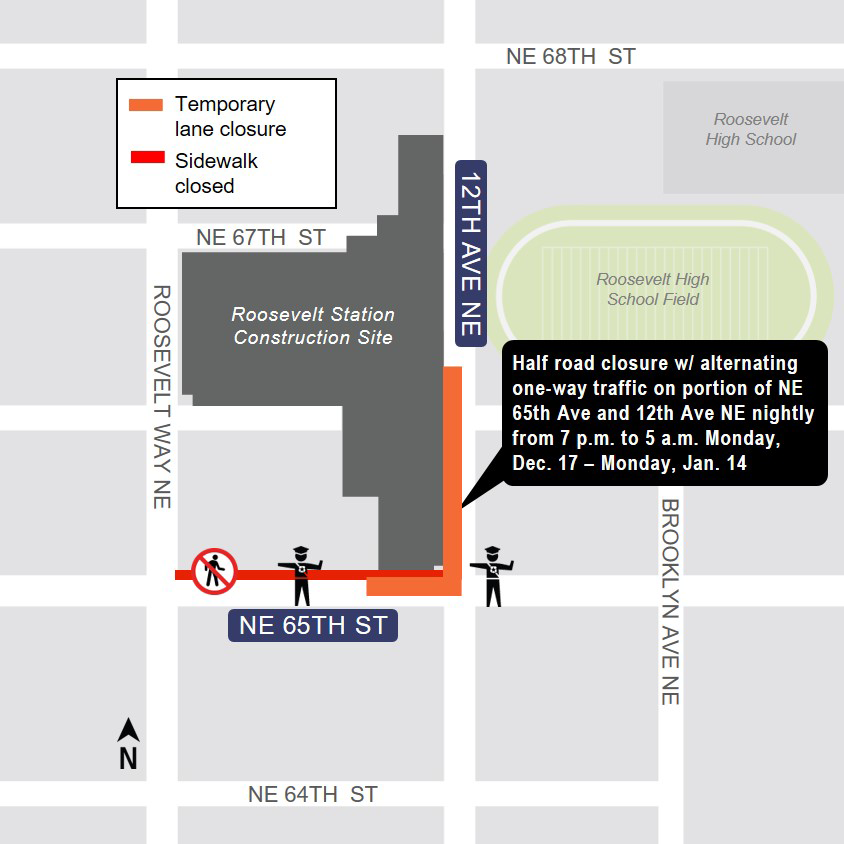 Contact us
Outreach Specialist: Rhonda Dixon, northlink@soundtransit.org or 206-398-5300
After-hours construction hotline: 888-298-2395