Update: Nighttime construction hours in Roosevelt
Body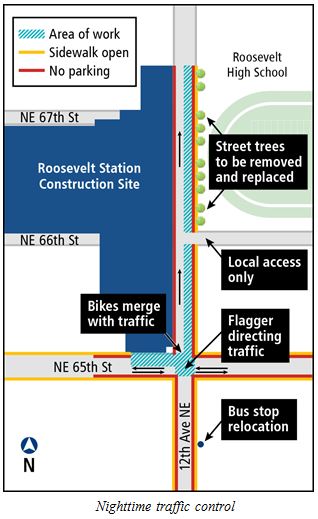 The final phase of water main replacement will begin on Monday, March 17.  Sound Transit's contractor and Seattle Public Utilities will be working intensively until March 31 to connect each end of the new 42 inch water main with existing pipe, drain and decommission the old water main, and disinfect and test the new main. 
The contractor obtained a two-week temporary nighttime construction variance from the City of Seattle to do this work.
Nighttime work hours are

Monday - Friday, 7 p.m. to 7 a.m.
Saturday - Sunday, 7 p.m. to 9 a.m.

Work area is 12th Ave NE from NE 65th St to NE 67th St.
Expect concrete sawing, jackhammering and excavating in the evenings until 10 p.m.
Expect active construction overnight.
There will construction equipment and many support vehicles in the area.
Equipment may be staged on the Roosevelt Station construction site.
Pavement will be restored in April.  Additional night work may be necessary while restoring the intersection at NE 65th St.
What restrictions apply to this night work?
Trucks may not idle when not working.
Stationary equipment, such as generators, must be enclosed
High impact work (jackhammers, concrete cutting, etc.) must stop from 10 p.m. - 8 a.m. (8 p.m. - 9 a.m. on weekends).
How will this affect traffic?
7 p.m. to 5 a.m., one lane will be open on 12th Ave NE.
7 p.m. to 5 a.m., traffic on NE 65th Street may be reduced to one lane at 12th Ave NE.  Flaggers will direct eastbound and westbound traffic through the intersection.
Expect delays.
Traffic lanes will re-open from 5 a.m. - 7 p.m.
How will this affect my bus stop?
The northbound Metro bus stop (routes 66 and 67) located at the northeast corner of NE 65th St and 12th Ave NE has moved temporarily to the south of NE 65th St.
How will this affect sidewalks?
The sidewalk on the east side of 12th Ave NE will stay open. See map for details
How will this affect bikes?
Bicycles will need to merge with traffic on 12th Ave NE during this work.
How will this affect parking?
Street parking will be closed day and night in the immediate vicinity of this work.
Please contact Sound Transit with questions about construction at 206-398-5300 or northlink@soundtransit.org. For issues that need immediate attention after normal business hours, call Sound Transit's Construction Hotline at (888) 298-2395.
For questions about Residential Water Service, call Seattle Public Utilities at (206) 684-3000 (weekdays 7:30 a.m. - 6 p.m.).  For questions about Business Water Service, call (206) 684-5800 (weekdays 7:30 a.m. - 5 p.m.).  For water emergencies only, call (206) 386-1800 (24 hours a day).
Northgate Link Extension is a key part of the Sound Transit's regional mass transit system approved by voters in 2008. The 4.3-mile light rail extension includes stations in the University District, Roosevelt, and Northgate neighborhoods.
For information in other languages: