Utility work to close section of alley between 12th Ave NE and Brooklyn Ave NE
Body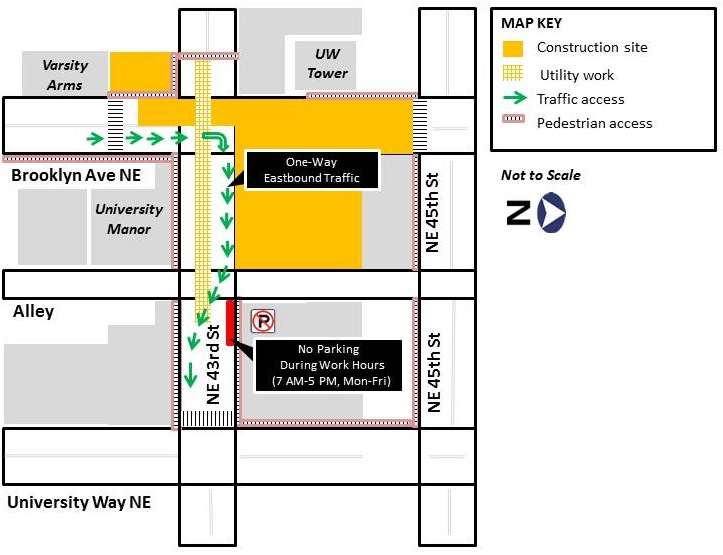 Construction crews building the U District Station will be installing underground utilities in the alley between 12th Avenue NE and Brooklyn Avenue NE beginning on Monday, Mar. 31. The underground power lines will provide power for construction activities, as well as for the tunnels and future light rail station. The utilities are located within the project construction site and cross the alley just south of NE 43rd Street. The utility work is expected to take approximately two weeks.

Motorist Access   
Beginning as early as Monday, Mar. 31, crews will be shifting vehicular traffic slightly to the north while they relocate the utility line on NE 43rd Street.
A flagger will be directing motorists through the work area. Motorists will continue to access NE 43rd Street between Brooklyn Avenue NE and University Way NE by heading north on Brooklyn Avenue NE and turning east on NE 43rd Street using the one-way street. Drivers should proceed with caution through this area.
The intersection at Brooklyn Avenue NE and NE 43rd Street may be intermittently closed to motorists while work is happening in the intersection. Local motorists will be able to access Brooklyn Avenue NE south of NE 43rd Street. Drivers may use NE 42nd Street (east- or westbound) or NE 45th Street (eastbound) as alternate routes.
Parking
A section of NE 43rd Street, on the north side just east of the alley, will be a temporary no parking zone during work hours.
Pedestrian Access   
 This section of the alley will be closed to pedestrians. Alternate routes for pedestrians include 12th Avenue NE and Brooklyn Avenue NE using NE 42nd Street.
The pedestrian path on NE 43rd Street will be temporarily shifted to the east during this work.
U District Station
The U District Station is under construction on Brooklyn Avenue NE between NE 45th and NE 43rd streets. The station is part of the future 4.3-mile Northgate Link Extension connecting Northgate, Roosevelt, and U District neighborhoods to downtown Seattle and Sea-Tac Airport.
For More Information:
Phone: (206) 398-5300
Email: northlink@soundtransit.org
Construction Hotline: For issues that need immediate attention after normal business hours, call Sound Transit's
24-hour construction hotline: 1 (888) 298-2395.