Weekend closure of portion of 1st Ave NE
Starting Friday evening, July 12th, 1st Ave NE between NE 92nd St and NE 95th St will be closed while Sound Transit's contractor and Seattle Public Utilities work to connect the station to the mainline sewer and water systems. 
What
Extended closure on portion of 1st Ave NE.
When
Friday, July 12th, starting at 7 p.m. and ending Monday, July 15th at 4:30 a.m. Crews will be working day and night.
Where
Closure of 1st Ave NE north of NE 92nd St intersection and south of NE 95th St intersection. NE 92nd St and NE 95th St intersections will remain open (see map). 
More
Driveway and NE 94th St access will be maintained. Enter and exit by way of NE 92nd St.
Local access for pedestrians will be maintained, flaggers will direct pedestrians southbound to NE 92nd St for pedestrian reroute.
Pedestrians residing outside of work area must use pedestrian reroute.
This work impacts King County metro routes and bus stops, including the temporary closure of the north and southbound bus stops on 1st Ave NE between NE 92nd St and NE 95th St. Learn more: https://kingcounty.gov/depts/transportation/metro/alerts-updates.aspx
A Temporary Noise Variance (TNV) has been issued for the overnight work.
Construction equipment includes front-end loaders, dump trucks, and excavators.
Plan ahead, leave early and allow extra time to reach your destination.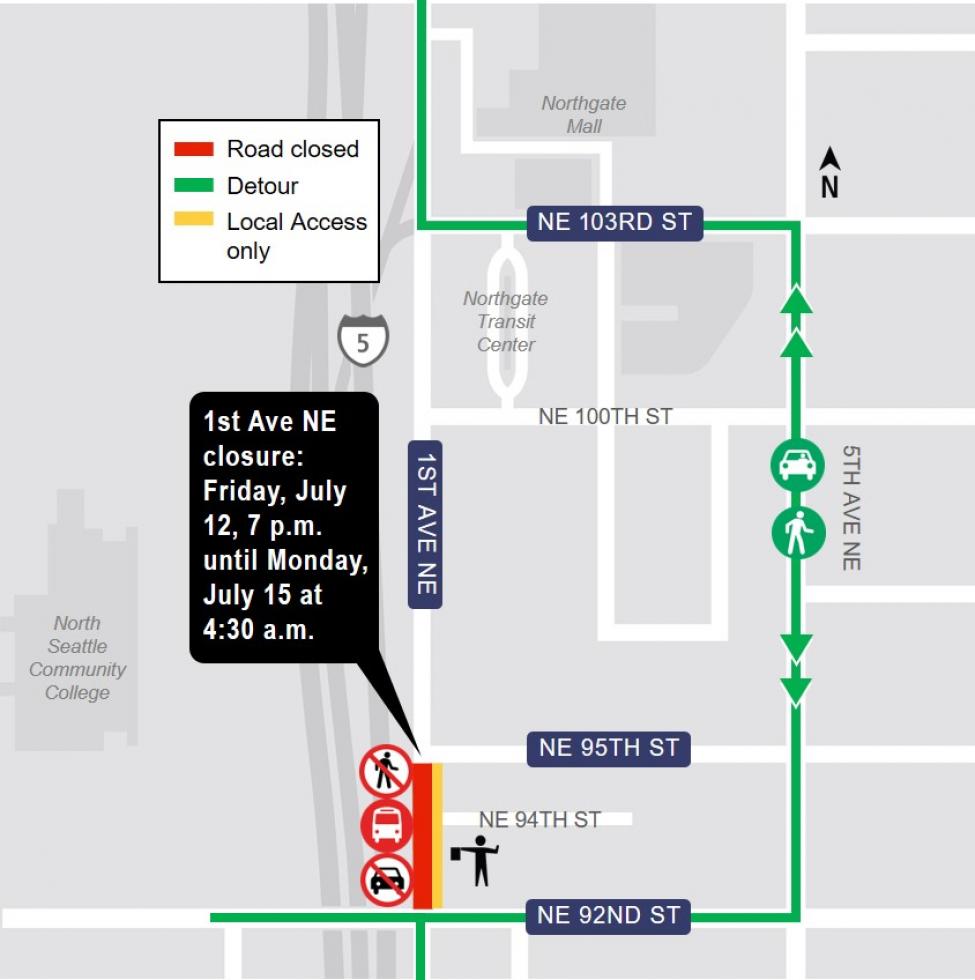 Contact us
Outreach Specialist: Alexis Lair, northlink@soundtransit.org or 206-398-5300
After-hours construction hotline: 888-298-2395