What to expect in September 2014
Body
The locations for the work listed below are shown on the map. 
1.    Continue digging for underground light rail station

Bulldozers are removing dirt and materials from the light rail station box. As crews dig down, wood planks or "lagging" are being installed between the piles to form the underground station walls. Crews will use three types of devices to secure the walls: struts, cable tie-backs, and soil nails. The most visible supports are large pipes (3 to 3.5 feet in diameter) called struts. The struts will span the station from east to west. The contractor will also drill horizontal holes between 50 and 120 feet long into the soil and install long cables, called tie-backs, into the holes and grout them in place. In select locations, crews will drill 40 to 45 foot long rods, called soil nails, into the soil to hold the station walls.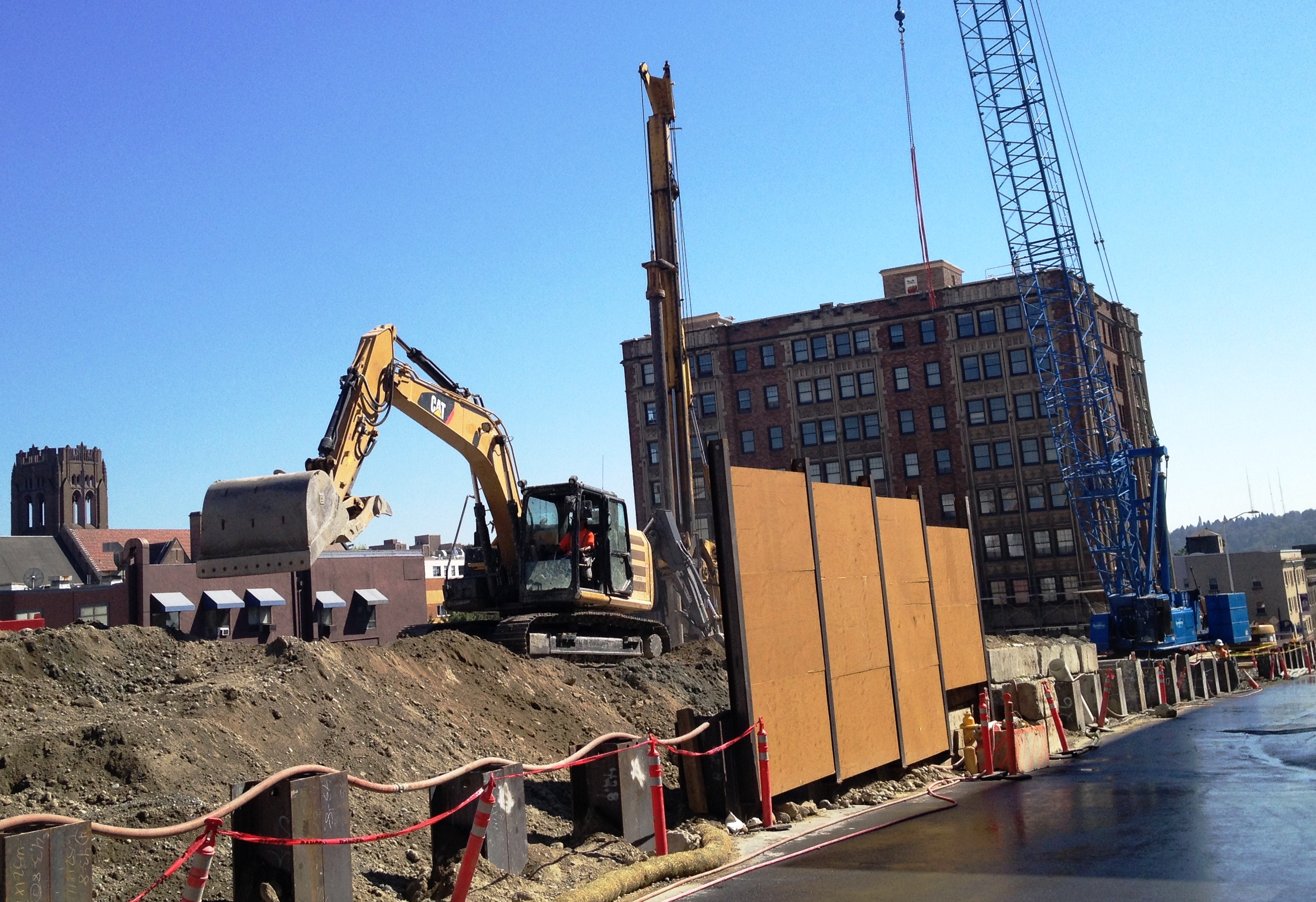 Excavation at U District Station will be ongoing through spring 2015
Over 135,000 cubic yards of soil will be removed from the site (equates to over 40 Olympic size swimming pools). Crews will dig until they reach about 95 feet below ground. Excavation will be ongoing through spring 2015.  
2.    Begin to build the temporary roadway bridge along Northeast 43rd Street
Crews will begin building the support foundations for the temporary roadway bridge along Northeast 43rd Street between Brooklyn Avenue Northeast and the alley. This will involve building wooden forms, installing metal rebar, and pouring concrete. Northeast 43rd Street is anticipated to re-open to one-way traffic in spring 2015. The roadway is open to local traffic between the alley and University Way Northeast, the "Ave."  
3.    Install electrical utilities to power construction activities    
Crews are installing electrical utilities within the project construction site near the intersection of Northeast 43rd Street and 12th Avenue NE to provide power for construction activities.

Construction impacts:
Closure of Northeast 43rd Street between Brooklyn Avenue Northeast and the alley to motorists until early 2015.

Cranes and equipment located close to the sidewalk along Northeast 43rd Street.

Noise from drilling the soil nails during excavation.

Dust from soil removal and pouring of concrete.

Frequent truck traffic on area roads and on the project site delivering materials and hauling materials offsite. Expect an average of four trucks per hour during excavation (daytime hours).

Trucks delivering large loads during the early morning hours.

Wheel washing stations to minimize truck debris track-out onto city streets.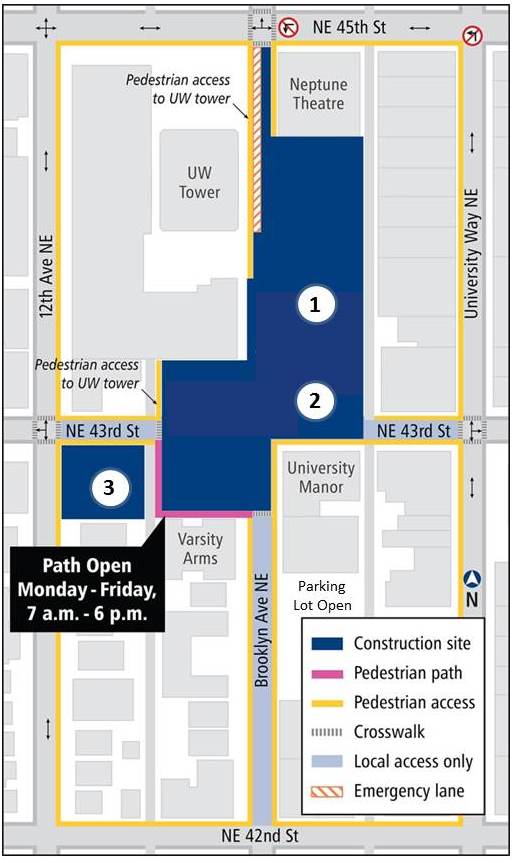 Crews will work to minimize impacts, such as noise, dust, debris, and access impacts during the work.   
Equipment: bulldozers, dump trucks, concrete trucks, vacuum trucks, excavators, jackhammers, cranes, generators, water treatment systems, street sweepers  
Schedule: Work hours are typically Monday through Friday from 7 a.m. to 7 p.m.  Intermittent weekend and evening work may be scheduled. Construction schedules are subject to change. Notifications will be distributed for significant changes.