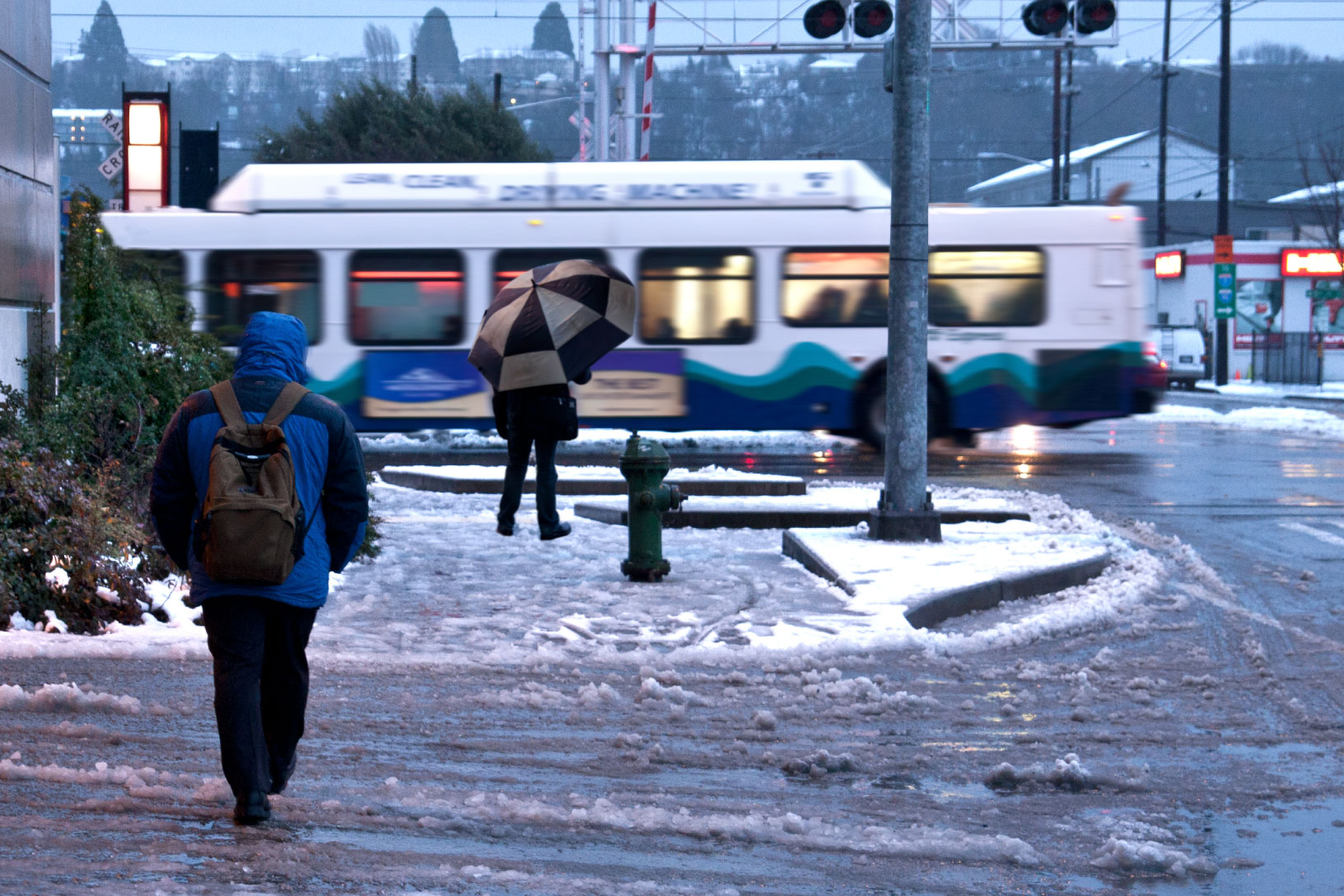 Sign up for Rider Alerts and follow us on Twitter to know how winter weather is affecting your route.
Severe winter storms can cause disruptions. Service also can be interrupted by mudslides, accidents or other events.
Be prepared: take a few minutes to learn about the travel alternatives that will meet your needs, and review our tips for commuting in extreme weather.
Before the storm
Know before you go: Review your options ahead of time. Check bus and train schedules or use the Trip Planner.
Sign up for alerts: Learn about cancellations for your route by signing up for text messages or email alerts.
Have a backup plan.
During or after the storm
Get the information you need
Things to remember
Give yourself plenty of time to get to the station or transit center.
Use caution when walking on wet or icy station platforms.
Dress warmly and be prepared to wait; you may be outdoors longer than expected.
Buses and trains are unlikely to stay on schedule.
Many popular transit apps (such as OneBusAway) do not work when a bus is on reroute.
Sound Transit service in winter weather
Buses
Buses follow normal routes as long as the streets are safe for travel. Some buses may be running on snow routes and others may be canceled. Snow routes may change depending on road conditions. Snow route information here - is subject to change, sign up for rider alerts for most up-to- date information.
Be aware of at-risk bus stops:
In severe snow and ice, buses often avoid hills or other safety hazards.
If there's no traffic going by your bus stop, walk to a stop on a busy street.
If your bus stop is in the middle of a hill, walk to the bottom where the operator can safely stop.
Stand back from the curb until the bus comes to a complete stop. Buses can slide sideways in slippery conditions.
Keep in mind that to avoid getting stuck, your bus may not pull all the way over to the curb.
Trains
Link and Sounder trains operate regular commuter service during cold and icy weather. Some emergencies, such as mudslides, can cause service to be canceled. Plan ahead, and be aware of your alternatives in case your train is canceled. You can use the trip planner to find options.