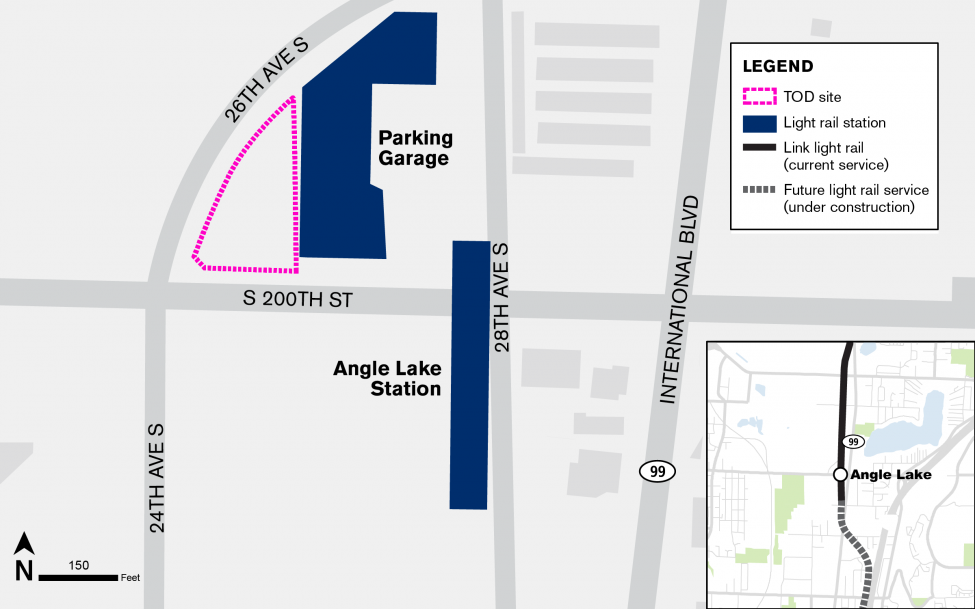 After Sound Transit finished building a parking garage and plaza at Angle Lake light rail station, we no longer needed an adjacent property that we'd used for construction staging. In 2021, we made this 33,500 square foot property available for TOD by releasing a request for proposals to affordable housing developers.
Mercy Housing Northwest submitted the winning proposal. They'll construct a mixed-use project on the property, providing a minimum of 85 affordable housing units above ground-floor commercial space near high-quality transit, jobs, parks and schools. The Arc of King County will relocate its King County headquarters into the ground-floor commercial space and provide onsite programming and assistance, including dedicated supportive services to project residents with intellectual and developmental disabilities.
As part of Sound Transit's partnership with Amazon to provide funding for affordable homes near our light rail stations, the company's Housing Equity Fund will offer a $16.7 million low-rate loan commitment and predevelopment grant funding to the project. In addition, this project will be made possible by a $2 million land value discount offered by Sound Transit.
Facts
Opening date: TBD
Affordability: At least 85 units serving tenants earning 60% of area median income or less, on average.