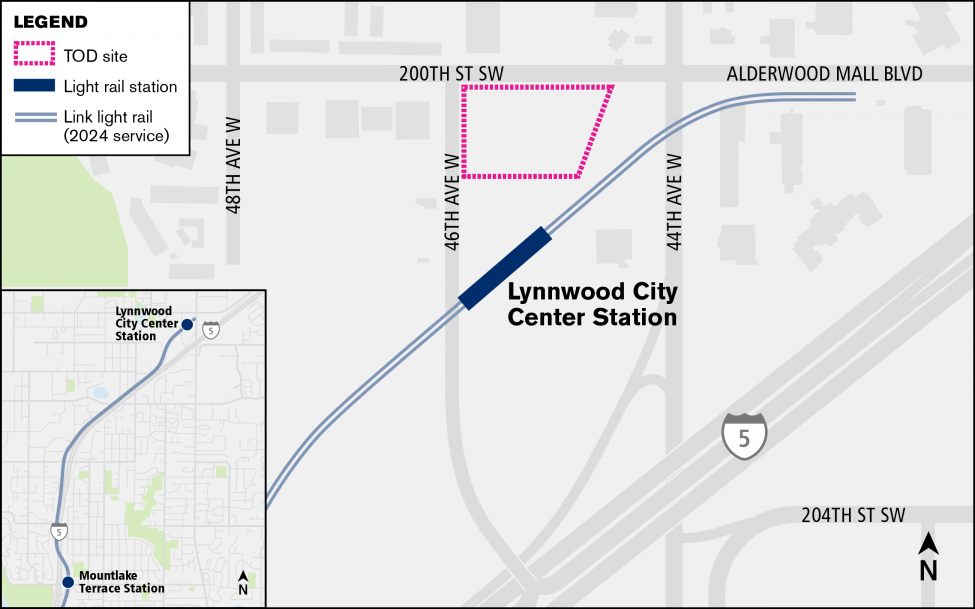 With Link light rail arriving in 2024, Sound Transit is planning for transit-oriented development in the heart of Lynnwood. This new development could include a mix of retail, restaurants, offices and community spaces to support new housing and help foster a vibrant neighborhood with seamless connections to regional transit.
Sound Transit owns property at 200th Street SW in Lynnwood, which is adjacent to the Lynnwood City Center Link light rail station (opening in 2024) and the Lynnwood Transit Center. At approximately 93,000 square feet, the property is slightly larger than two football fields. In use for temporary parking and construction staging during the building of the light rail extension, the plan is to make the property available for transit-oriented development when construction is complete.
How can we transform the property to serve the needs of your growing community? 
Sound Transit's TOD team plans to select a developer for the property in 2024, but first we want to hear from you. This fall and winter there will be several opportunities for folks in the area and along the light rail extension to share ideas and reactions to potential uses for the land. We will also host an online open house to gather community priorities for the site, including affordable housing preferences, other uses and design. Your input, which we expect to share back with the community in spring 2022, will inform design concepts and our Request for Proposals to develop the site.
Lynnwood TOD by the numbers 
1.6 Acres of land for transit-oriented development
93,000 Square footage for housing, commercial and community use
2024-2025 Timeline for start of construction