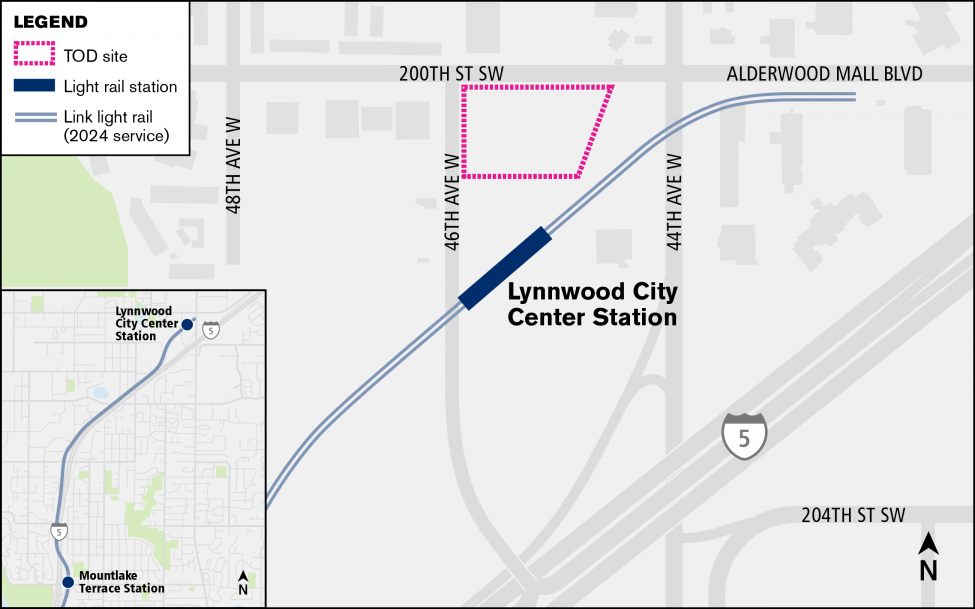 Sound Transit is expanding Link light rail service from Northgate into Snohomish County, including a new station in Lynnwood that we plan to open in 2024. Lynnwood City Center Station will be the last stop on the line until Everett Link opens (scheduled for 2037) and will connect South Snohomish County to the Link system.
We purchased 1.6 acres of property right next to the future station to support light rail construction. When the station is complete, the property will be available for transit-oriented development.
What have we done so far?
We engage with residents, businesses, government agencies and community organizations to understand what kind of TOD would be best suited for the community. In the spring of 2022 we concluded our first round of community engagement in Lynnwood and heard strong calls for affordable housing, community centered spaces like gathering areas and cultural resource centers, and outdoor space like paths, lawns and plazas for the community to enjoy. You can view the Community Engagement report here.
In July 2023, we released a Request for Proposal for the TOD Site. For more information about these opportunities, please visit Sound Transit's online vendor portal.
Upcoming milestones
July 26, 2023*: Pre-proposal conference for prospective bidders. Please visit our vendor portal for more information.
September 29, 2023*: Proposals due
October 2023*: Proposal evaluation
November 2023*: Select top-ranked proposal and begin negotiations
*Note: Milestone dates are subject to change
This spring, we held open houses for developers to learn about the TOD opportunity. You can view a recording of the presentation below:
Study site conditions and development opportunities.

Determine community needs, priorities and vision for the station area and the TOD site.

Establish goals for the site, including amount of affordable housing and ability to discount the property price.

Organizations interested in developing the site submit proposals, from which a winning team's proposal is chosen.

Developer builds the TOD.
Have more to say? We're listening!
Email Rebecca Brunn at rebecca.brunn@soundtransit.org if:
You have more ideas about what should be built at Lynnwood City Center that you want us to hear 
You're interested in responding to the Request For Proposal (RFP) Sound Transit plans to put out in 2023 and want to know more
You're a community-based organization located in Snohomish County and want to get to know us 
You have questions about our program or process