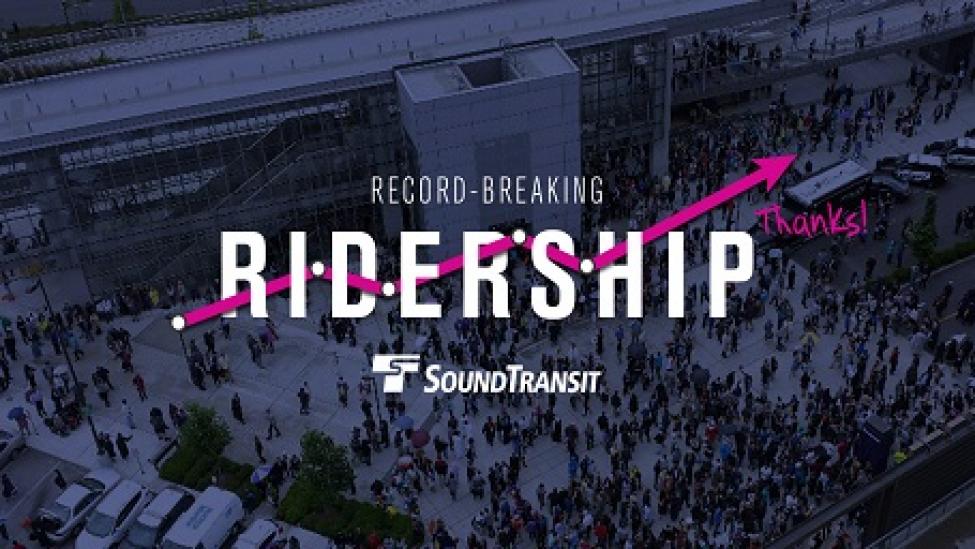 2017: Another record-breaking year for ridership!
Body
The 4th Quarter ridership numbers were released today along with the 2017 year-end numbers for Link, Sounder, ST Express and Tacoma Link. The year-end ridership report adds another data point to mirror widespread news of how our region leads the nation in transit ridership growth. 
Overall Sound Transit carried folks on 47,031,129 trips last year, a 10 percent increase over 2016. Here's the breakdown by mode: 
Link light rail - 23,186,633 
ST Express bus - 18,373581
Sounder - 4,438,374 
Tacoma Link - 972,405  
Paratransit - 60,136 
The largest growth was on Link with 22 percent growth over 2016. Last year was the first full year of service since new stations opened at the University of Washington, Capitol Hill and Angle Lake. We also started running more 3-car trains last summer to meet the booming demand. 
Here's a quick video clip showing just how effective Link light rail has become at moving masses of people. It's footage of trains clearing the southbound platform at Westlake Station in downtown Seattle after the Women's March on Jan. 20 of this year.
Back to the ridership report - Sounder saw 2.9 percent growth overall for the year, based on strong growth on the South Line where we added two more trips last September. Since we added the new trips we've had weekday increases of about 4 percent in October and November and 8.4 percent in December, evidence that adding new more trips means more riders. 
There was a small decrease in ST Express ridership (.5 percent under last year) attributed to lower gas prices. Tacoma Link was up 3.6 percent.
Station level boardings are included in the new report. We're still seeing big jumps at Capitol Hill, Westlake, SODO and Angle Lake stations.