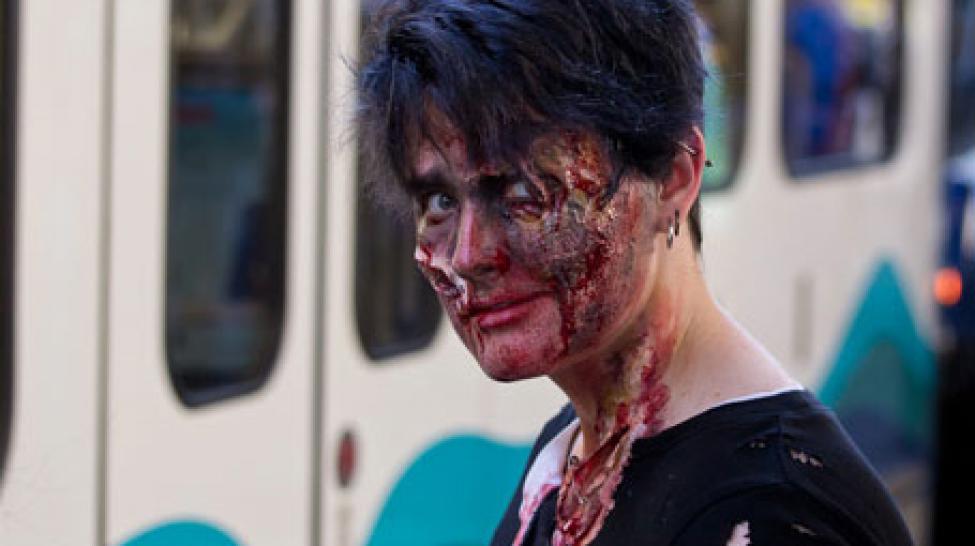 5 memorable moments aboard Link
Body
Photo by Michael Brunk
It's been a fun ride! As Link light rail celebrates its fifth birthday, we reflect on some of the more interesting onboard moments since it opened in July 2009.
Seattle zombies attack the light rail. It started in 2010 when a pack? a horde? a mob? of zombies boarded a light rail train to Crypticon, the Northwest's annual horror convention. The zombies have been back several times since.
The no pants! light rail ride. Self-explanatory. First organized by Emerald City Improv in January 2010, it's an annual event for the brave at heart.
Will you marry me? They met on a Link train and started talking. In 2011, regular riders Kathy Davis and Eric Korndorffer were married. They celebrated their first wedding anniversary by handing out Hershey's chocolate kisses on a Link train.
Anthony Bourdain. OK, the famous chef and television personality wasn't actually on a Link train that we know of, but his crew was in 2012 to film an episode of his show.
Tabi Salad. In 2013, a Japanese film crew rode Link for an episode of the Japanese travel show. Although you likely didn't see it, the popular program is watched by more than four million households throughout Japan.
Here's to more memorable moments aboard Link - thanks, riders, for a great five years!