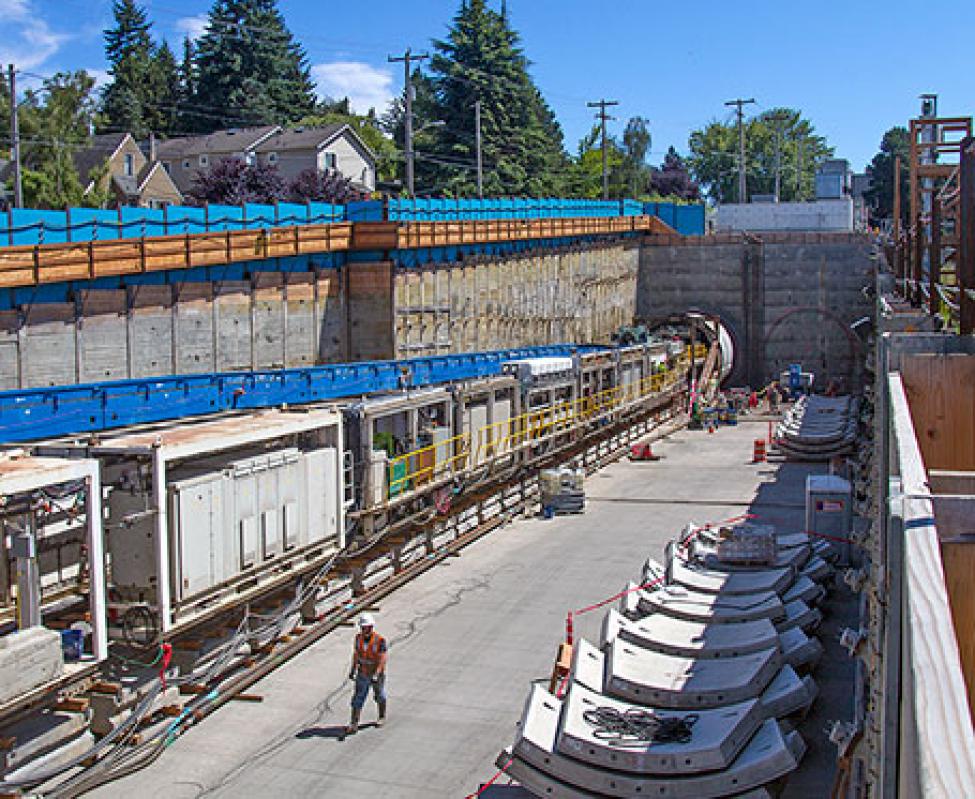 8 facts about the Northgate Link tunneling project
Body
In July 2014, the first of two tunnel boring machines (TBMs) launched from the tunnel portal just south of the Northgate Transit Center, headed for the University of Washington. The second TBM was assembled at the Northgate site and launched in October.
The machines dug two 3.5-mile tunnels and connected the University Link line into downtown Seattle.
Each TBM weighs over a million pounds and is about the length of a football field with its trailing gear.
The TBMs have three main sections: a forward shell that contains the 21-foot diameter cutting head and the main drive, a stationary shell that houses the propulsion system and steering, and a trailing shield that contains the lining erection equipment.
Mining the twin tunnels to UW completed in mid-2016, with cross-passage work continuing into 2017.
Cross passages between the two tunnels are dug by hand and will provide emergency exits once the trains are running in 2021.  
The total length of the tunnel is 18,400 feet. It's about 8,100 feet from Northgate to Roosevelt Station, another mile to the U District Station and another 4,800 feet to the University of Washington Station.  
Crews mined 20-40 feet a day once the machines were fully buried.  
Depths during tunneling - from Maple Leaf to Roosevelt 60 -110 feet deep, Roosevelt to U District 60 -120 feet and U District to University of Washington Station 140 feet.