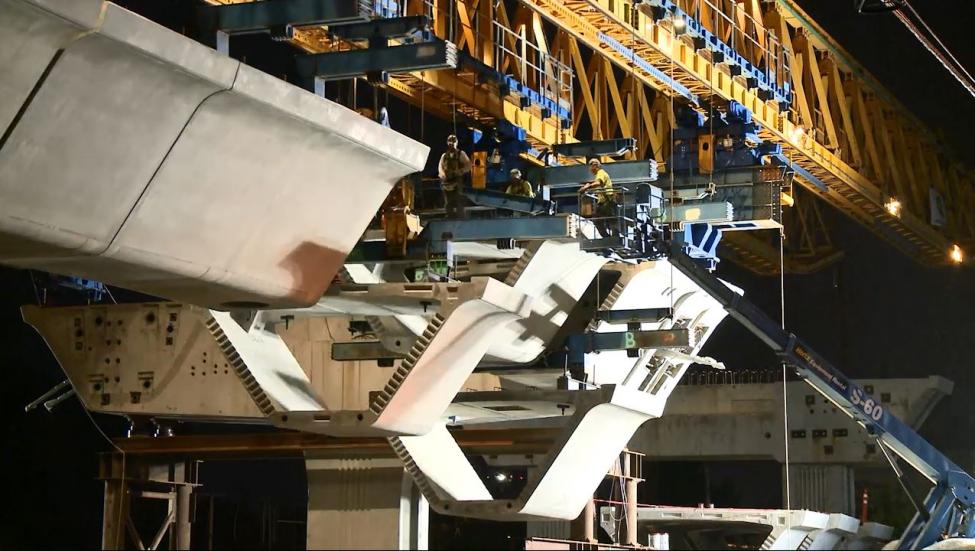 Behind the scenes of time-lapse videos
Body
Today's nighttime time-lapse construction video is a companion piece to the daytime one that premiered in June 2014. Both show construction progressing on the overhead trackway for the 1.6-mile Link light rail extension south from Sea-Tac Airport to Angle Lake Station.
How do Sound Transit videographers create these fast-moving videos? Take a seat in the director's chair for a behind-the-scenes look!
Number of videographers: 2
Equipment and software: Two Sony EX1 HD cameras, edited in Adobe Premiere.
Hours of footage:
Daytime filming: eight hours
Nighttime filming: six hours
Filming technique: Standard videos are shot 30 frames per second; these time-lapse videos were shot three frames per second then sped up 900-1,000 percent for a condensed video.
Location and angle: The crew set up daytime filming on the west side of South 200th Street facing east. The nighttime section was shot from the east side facing northwest.
Setting up the shot: Framing the shot before filming is crucial. Because it's a time-lapse, the camera cannot move. Two cameras were used for nighttime filming to show construction from different angles. "You have to make sure visually it fits in the frame and have a vision for what you want people to see."
Biggest challenge during filming? Working around the rain and not moving the camera. The video crew moved quickly to cover photo equipment when the rain came. "We have to keep the camera as still as possible and make sure there's no obstructions or movement. Because the frame is magnified, any mess-ups are magnified."
Most exciting part of filming: "Having been at the construction site for both daytime and nighttime shoots, it was really exciting to see how much progress the workers have made. It's a well-oiled machine out there. There's so much going on and many locals came to watch the construction progress, too. We enjoyed getting to know them and the construction workers."
Construction details: The elevated trackway contains 1,166 segments. These pre-cast concrete pieces were manufactured in Enumclaw by PCL Civil Constructors and trucked to the SeaTac job site. The trackway has 63 spans, each made up of nine to 13 segments; each segment is numbered and has a specific place in line. It takes construction workers 30 minutes to lift one segment into position. Once in position, the span is glued together and must set for about 24 hours. The Angle Lake Station at South 200th Street in SeaTac opened for light rail service in September 2016.