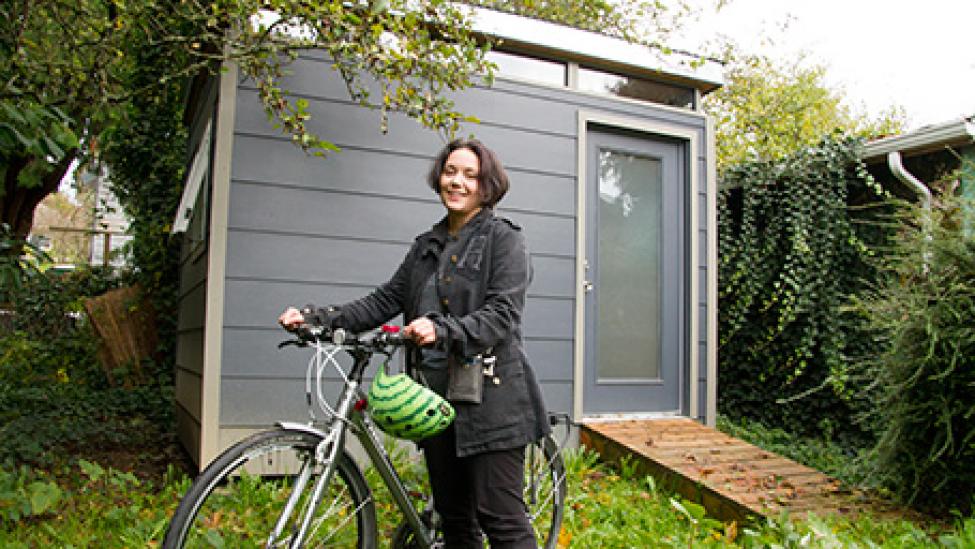 Downsizing: going car-free and living simple
Body
Trying to live simpler in the new year? Need more time with friends and family?  Take a lesson from transit rider Josie Nutter, who downsized and went car-free years ago.
The majority of Josie's belongings fit in her linen closet. A few years ago, while living in an overstuffed apartment in South Lake Union where parking was a daily battle, she decided to sell her car and purge her belongings. Intrigued by the "Small House Movement," she purchased a small piece of property in Seattle's Central District and put a 96-square-foot modern shed on it.
She enjoyed walking, biking or busing to her job downtown at the time. Today, Josie commutes by bike or carpool to her job as a software engineer in Duvall. She's planning to build a permanent tiny home on the property.
One of the challenges to downsizing is knowing where to start. Josie suggests going through your belongings every few months and getting rid of what you don't use. "People worry things may be useful later; choose what fits your lifestyle now."
Living a simpler lifestyle gives Josie more time to spend outside, travel and socialize. "My things have more sentimental value to me now. It's easier to move around."
If you want to try downsizing, consider Josie's example: A donation box is never far from reach.