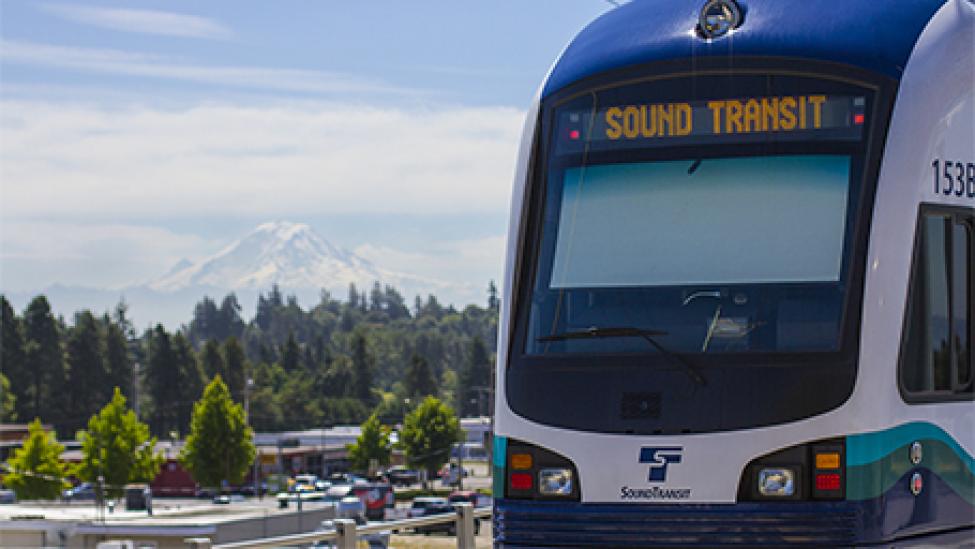 Environment in motion at Angle Lake Station
Body
The views from Angle Lake Station are some of the best on the Link light rail line. In fact, one of the goals of the station design was to have unobstructed views of the Sound and the mountains from the platform. 
The station theme, "Environment in Motion," is embodied throughout the station and garage. Use of sustainable materials was key in the project's design and construction.
Here's a few of the environmental features at Angle Lake Station:
Harvested rainwater provides 100 percent of station-area irrigation.
A blue aluminum façade appears to change and flow as one moves around the garage and requires little maintenance.
60 solar panels on the station platform canopy provide 14 kilowatts of power.
A 50-kilowatt solar power system is installed on the pedestrian walkway on the garage while also providing weather protection.
The station and garage use predominately LED lighting.
The station escalators power down to a slow crawl to save energy when not in use; only the second installation of its kind in Washington and a new Sound Transit standard.
Materials were selected that excluded chemicals of concern as well as for durability and low maintenance.
The station is on track to be the first LEED-certified light rail station in the Northwest.
Artist Laura Haddad's Cloud artwork hangs above the train platform and serves as a sculptural barometer of local weather. Wind activates thousands of individual discs while sunlight makes them shimmer and glow. At night the artwork is illuminated, creating a glowing effect.
Artist Jill Anholt's Immerse appears to hang weightlessly in the plaza's grand staircase, with the sculpture's three delicate arcs transferring and filtering light into the parking area below. Immerse explores and celebrates the process of falling rain, that reveals and amplifies its patterns and fluctuations.