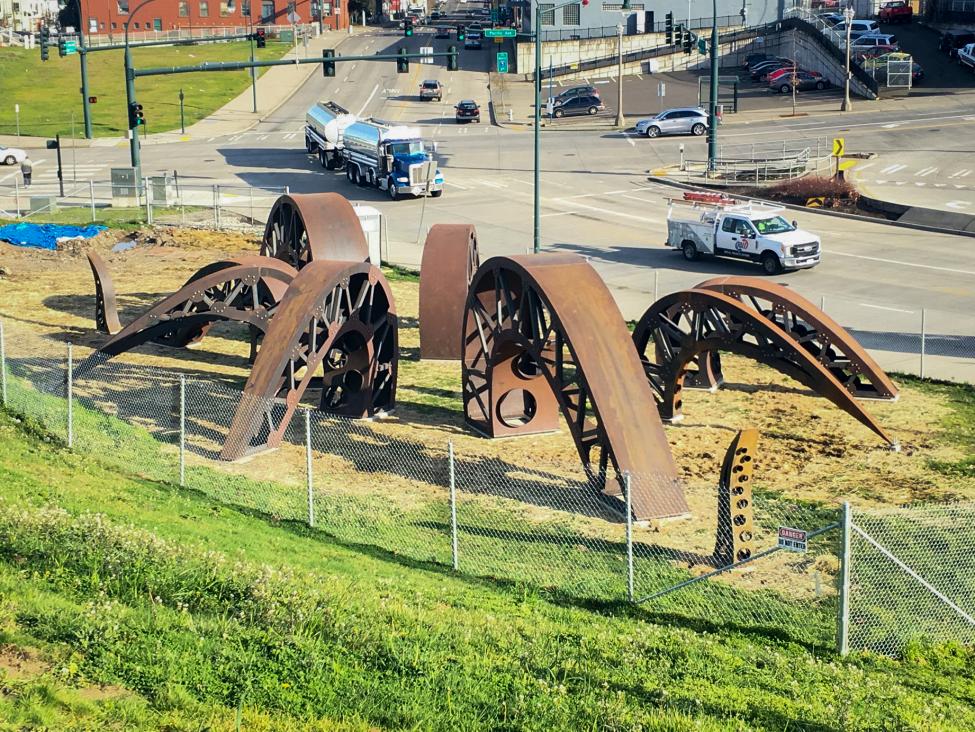 Gertie's Ghost surfaces in Tacoma
Body
Contractors carefully hoisted the 20-ton steel sculpture, Gertie's Ghost, into place this week on the northwest corner of South Tacoma Way and Pacific Avenue in Tacoma.
Check out the five-hour installation process process in this 20-second time-lapse video! 
Artists Sean Orlando and David Shulman created the work as part of Sound Transit's Sounder commuter rail project that extended Sounder south from Tacoma to Lakewood.
The Sound Transit art program, or STart, incorporates art into Sound Transit facilities and infrastructure that reflects the communities we serve. 
The sculpture is made up of eight large-scale arch segments evocative of the local legend of a large octopus named Gertie and of classic railroad truss bridges.
Orlando explained the artists' inspiration in this great article from the Tacoma News Tribune. 
"We were enamored with the story of the giant octopus that lives in the wreckage of the bridge," Shulman told the Tribune. "We kind of fused all of those things together to try and build something that was evocative of an old railroad trestle but had the tapering lines and organic curves of an octopus's tentacles."
The artists were selected through a partnership with STart and the Tacoma Office of Arts and Cultural Vitality.
"This gateway artwork that Sound Transit commissioned is part of a larger capital project that has reshaped the south end of downtown Tacoma," said Tacoma Arts Administrator Amy McBride. "When Sound Transit extended its Seattle-Tacoma Sounder commuter rail line from the Dome District to South Tacoma and Lakewood, a new entry to the southern edge of our museum-rich downtown area was created."
Meet the artists
Sean Orlando is a multi-disciplinary installation artist, museum professional, and community organizer with an interest in collaborative and immersive large-scale sculptural installation projects.
He founded Engineerd Artworks, a design/build art studio in Oakland, Calif., that has a growing portfolio of complex civic and public art installations. 
David Shulman is an installation artist and collaborator, working with and building community to create interactive, immersive and engaging projects of all sizes.
He is one of the co-founders of Five Ton Crane, a California Bay Area artist collective, which does the heavy lifting that individual artists can't do by themselves.
Recent group projects the artists worked on include The Steampunk Tree House, The Raygun Gothic Rocketship and The Nautilus Submarine Art Car.
Links to more
Check out Engineered Artworks Instagram channel for more pictures of Gertie's Ghost in fabrication. 
Craig Sailor from The Tacoma News Tribune wrote this gripping piece about the new sculpture that includes more video of the installation.  
South Sound Magazine dove into the lore about Gertie in this article from 2015. 
Special thanks
It really does take a village to install massive projects like this. Special thanks to Superior Earthworks, Western Crane, Centennial and JEM Contractors for their professional services getting Gertie on the ground.