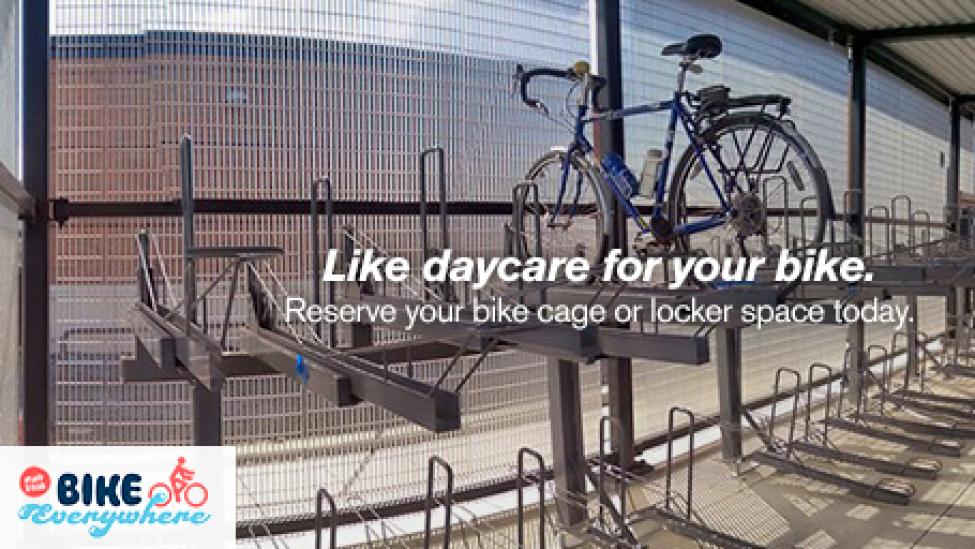 Get ready for Bike Month with secured bike parking at your station
Body
Our regional spring celebration of Bike Everywhere Month in May is just around the corner and we've literally got your bike covered at our train stations and park-and-ride lots.
Most of our stations include covered bike racks but for those wanting a little more security, we've got secure bike lockers or bike cages for you to store your trusty steed while you're at work.
The bike cage and bike lockers at Beacon Hill.
Most Link light rail and Sounder commuter rail stations have locker space available and we also have plenty of room available in our bike cages at the Angle Lake and Beacon Hill light rail stations and at the Tukwila Sounder Station. Check our "Bringing your bike" page to see what's available at your nearest train station or park-and-ride.
With limited space on busy trains and buses – especially during rush hours – storing your bike at the station is a great way to combine biking and transit and make riding a healthy part of your daily commute.
There is some paperwork involved with getting your own locker or using the bike cages, so get started now to have your locker or cage space ready for you in May. It will cost you $50 annually to use the lockers or cages, plus a $50 one-time refundable deposit for a locker key if you go that route.
Check our "Bringing your bike" page for everything you need to get your locker or cage reservation started or email bicycles@soundtransit.org where bike-friendly operators are standing by. Here's a handy video showing the best way to use the new bike cages. 
Of course, you can always find bike rack parking at all of our stations if you don't want to go the locker/cage route. Here's one of our favorite "how to" videos explaining the best ways to lock your bikes from the famous Hal the Bike Mechanic. It's vintage Hal, and always worth revisiting
Happy riding; we'll see you on the road and trail in May!