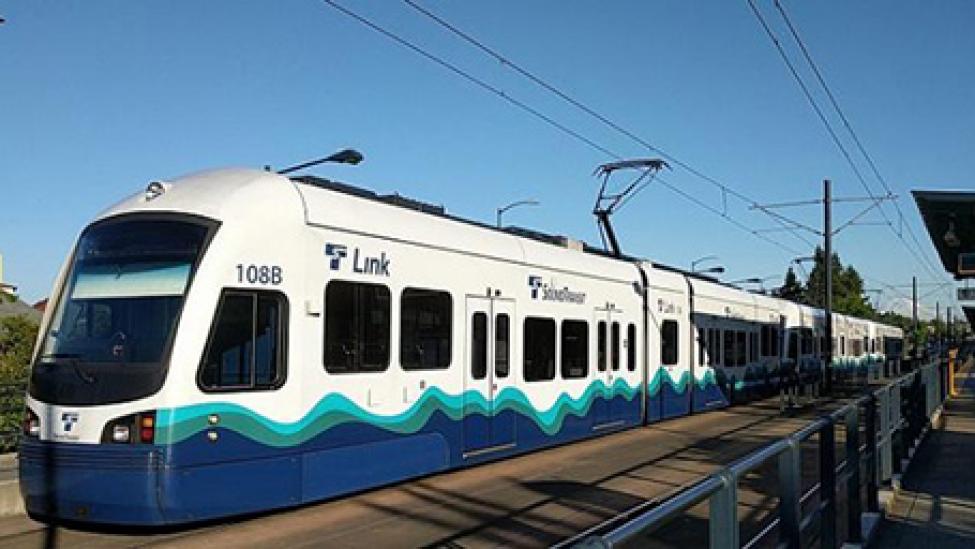 Happy 8th birthday to Link light rail!
Body
Today marks the eighth anniversary of the launch of Link light rail in Seattle, the culmination of more than 40 years of discussions, plans, arguments, fitful starts and stops and ultimately the catalyst for a new era of mobility in Central Puget Sound. We estimate we've had more than 86 million boardings on Link since opening day. 
We launched the new line from downtown Seattle to Tukwila (Airport Station would come online that December) on a scorching summer Saturday with an 8:30 a.m. ribbon cutting ceremony at Mt. Baker Station and service ended at 8 p.m. that night. The next day Link ran from 10 a.m. – 6 p.m.  Rides were free all weekend.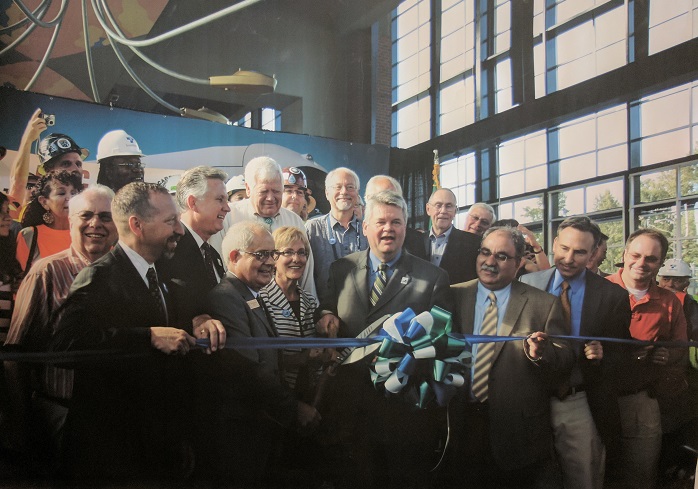 (Cutting the ribbon on Link opening day, 2009)
We estimated about 45,000 people came out to ride the trains on opening day with many waiting between 10-20 minutes to access the stations as we metered how many riders could be on the platforms at a time.
It was a beautiful celebration for the region with the Seattle Times devoting all but two front page stories to opening day activities under the headlines, "SEATTLE HOPS ON BOARD," and "TENS OF THOUSANDS REVEL IN THE SUN AND THE FESTIVITIES AS BIG-CITY TRANSIT ROLLS OUT AT LAST." (Although for some reason, those headlines are not the same in the online archives.)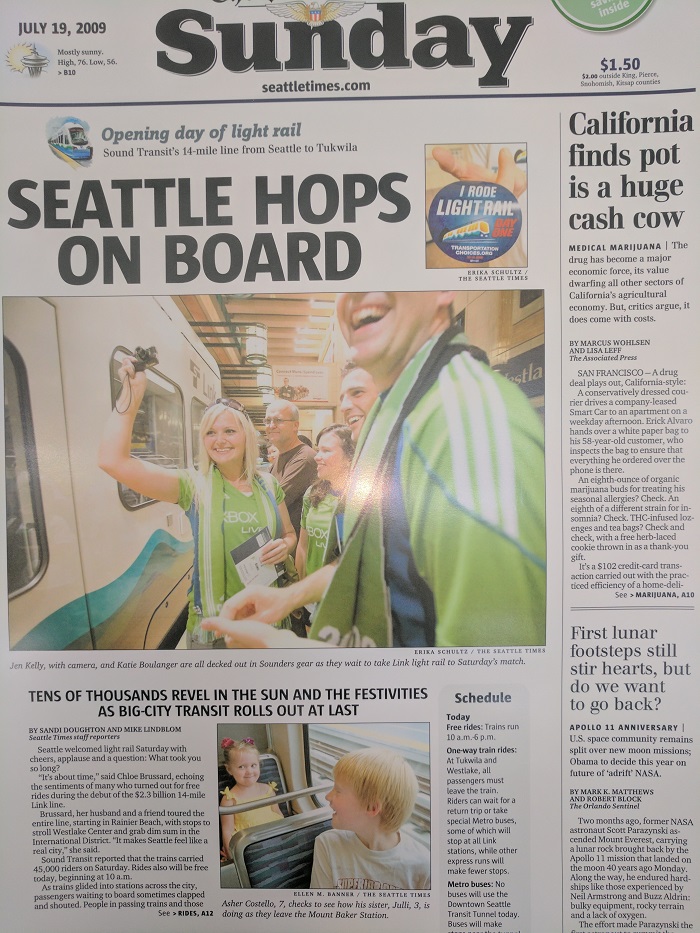 (Seattle Times front page the day after Link opened in 2009.)
We estimate we had a total of about 2.5 million Link riders in 2009 and averaged a little over 15,000 riders on weekdays. It was a slow start out of the gate as Seattle and the country weathered the impacts of the Great Recession. We even ran single-car trains at night and on weekends for a brief period in 2010 instead of putting wear and tear on empty vehicles.
But as Seattle and the region roared out of the recession, so did Link ridership with double-digit percentage gains every year leading up to the explosion of ridership growth after we opened new stations last year on Capitol Hill and at the University of Washington.
This past May (the last month that we have ridership estimates for) Link carried an average of more than 73,000 riders on weekdays and topped 2 million total riders for the month.
It's been an amazing ride since 2009 and we're just getting started.
Seattle and the region have the fastest-growing transit ridership in the nation here in the fastest-growing big city in the country.
And thanks to voter-approved transit measures in 2008 and 2016, Sound Transit will open 21 new light rail stations over the next eight years connecting 10 more cities in the region. Ultimately, Link will be five times larger than it is today, reaching Everett, Tacoma, Seattle neighborhoods of Ballard and West Seattle, and new Eastside destinations of Redmond, south Kirkland, Bellevue, and central Issaquah.
Looking back on the incredible growth that Seattle, the region and Link have seen over the past eight years is mind boggling. And as Facebook reminded me where I was on this day in 2009 with one of my favorite photos below, I can't wait to see what lies ahead.
The bigger girl in this picture is taking Link on her own to a summer camp at UW this week and will be a ninth grader at Franklin High School next year. The smaller one knows the exact travel time from Columbia City to bubble tea in the International District. 
I'm looking forward to them and their friends having even more places to explore by train over the next eight years.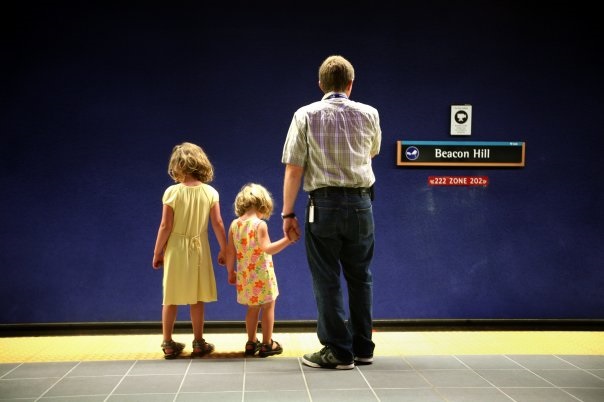 (Waiting for the train on opening day, 2009. Photo credit to the incredibly-talented Ellen Banner of the Seattle Times.)