It's an honor to celebrate the 20th anniversary of Sounder South service today with our operating partners, employees, and most importantly, the riders who have made it such a success.
Without the Sounder, so many people wouldn't have the chance to ride a train. Every time you step on board, you feel that same excitement from when you were a kid playing with model trains.
On Sept. 18, 2000, Sounder made its inaugural run from Tacoma to Seattle.
Since then, it has provided a lift to Seahawks games, concerts, and work conferences – not to mention a reliable and traffic-free commute.
Sounder South by the numbers                                      
Trips: 76,800

 

Miles traveled since inception: 3,270,000

Hours operated: 105,700

Ridership (Sounder South and North): Nearly 50 million!
Please join us in wishing a happy anniversary to Sounder, with many more to come! Use the hashtag #Sounder20 to celebrate virtually.
Leading up to today's celebration, we asked riders to share their favorite Sounder memories for a chance to win a commemorative ORCA card.
Thanks to everyone who shared stories, photos and even poetry!
Here's a haiku written by Kevin:
"The Sounder is nothing but
squeal, sights, slumber, stop
Seattle to Tukwila."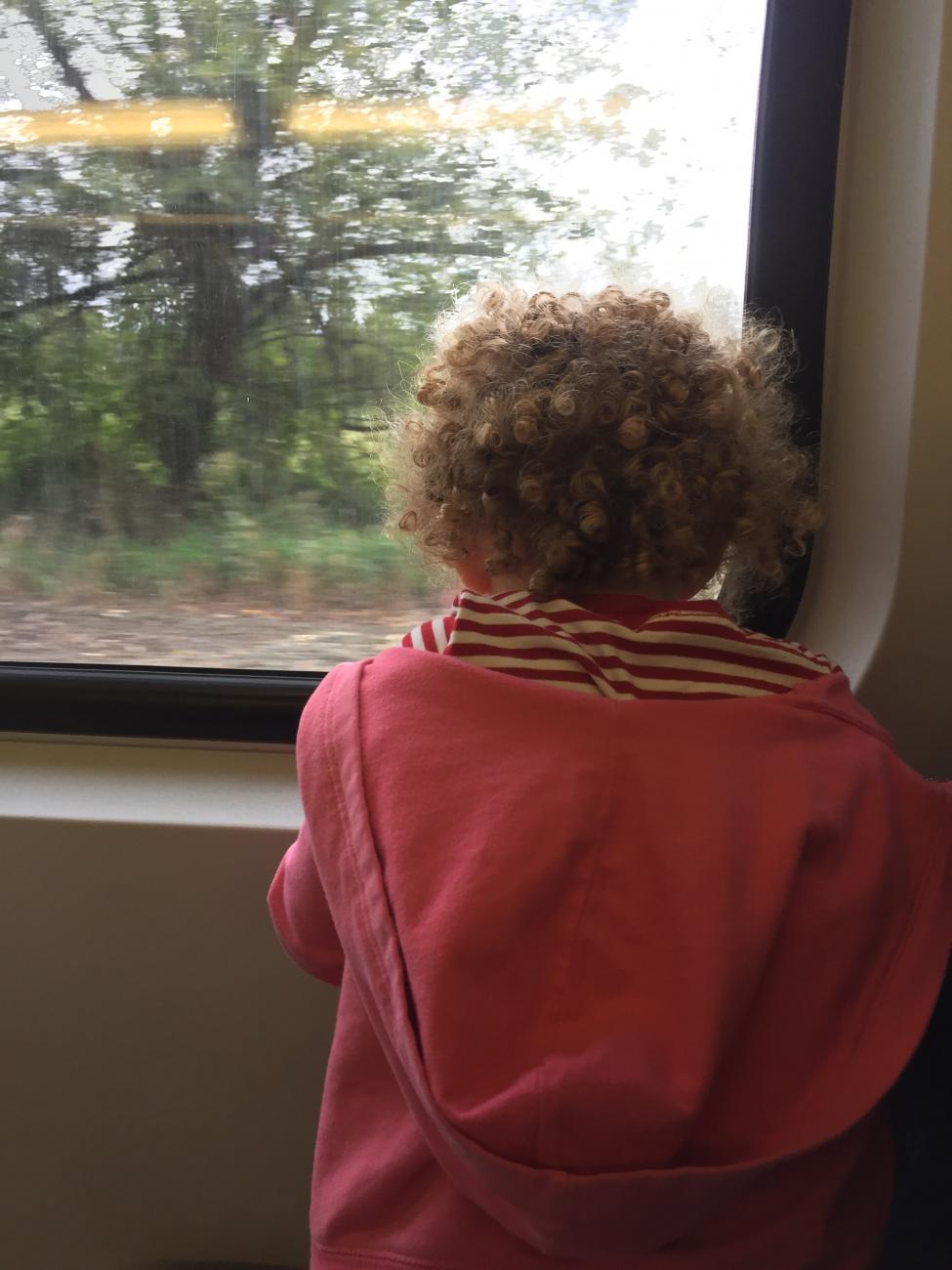 It was great to hear from our riders on what they love about Sounder. Many mentioned the convenience provided by the service.
Jarred had always been a train fan and was jealous of other cities that had commuter rail. "Once Sounder came, because I lived in the city, I never got a chance to use it for my commute. But when my wife and I made the moves to the suburbs, we specifically picked our apartment in Kent because it was only two blocks from the Sounder station. Could not be any easier to walk out of our building and head into Seattle."
Jerry rides often and takes advantage of the free WiFi on board, but one day in particular stands out. "I sat down with my coffee and took out my laptop to get some work done [and saw] friendly face off the corner of my eye. It was a cute service dog who was a bit curious to see what I was up to during the whole ride! It was an extra pleasant train ride that morning and one I won't forget."
The Sounder has made my commutes so much easier whether I need to travel to work in Seattle or to see the Seahawks win on game day.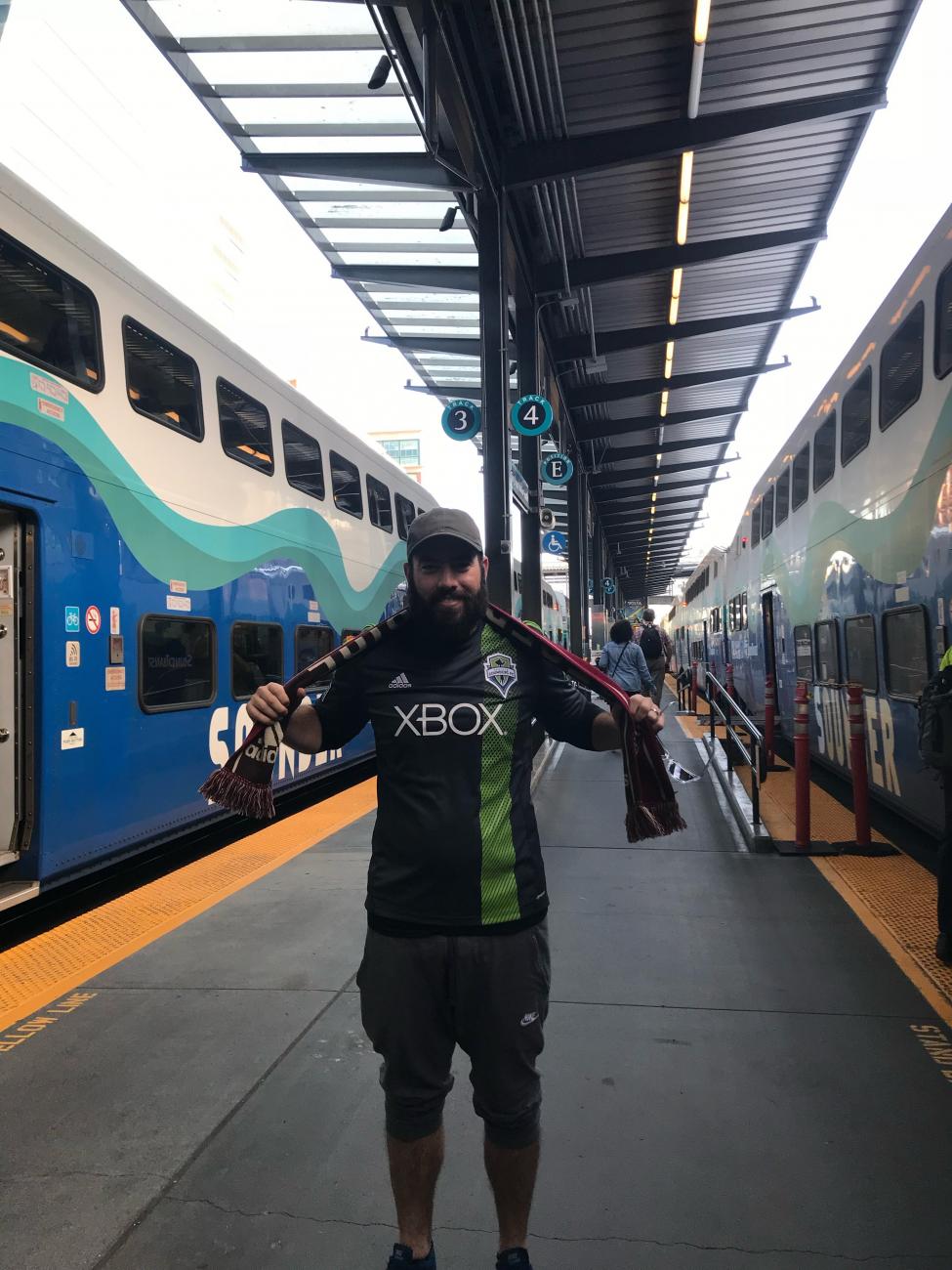 A couple years ago, Andreas needed to attend a convention at the Tacoma Dome. "Timing would have put my drive in major traffic both ways. Instead of driving, took a bus from my house to King Street Station, jumped on the train, and kicked back for the ride and reading. Got off the train and made a short walk to the convention at the Tacoma Dome. Doesn't get any tighter than that and with no parking fees!"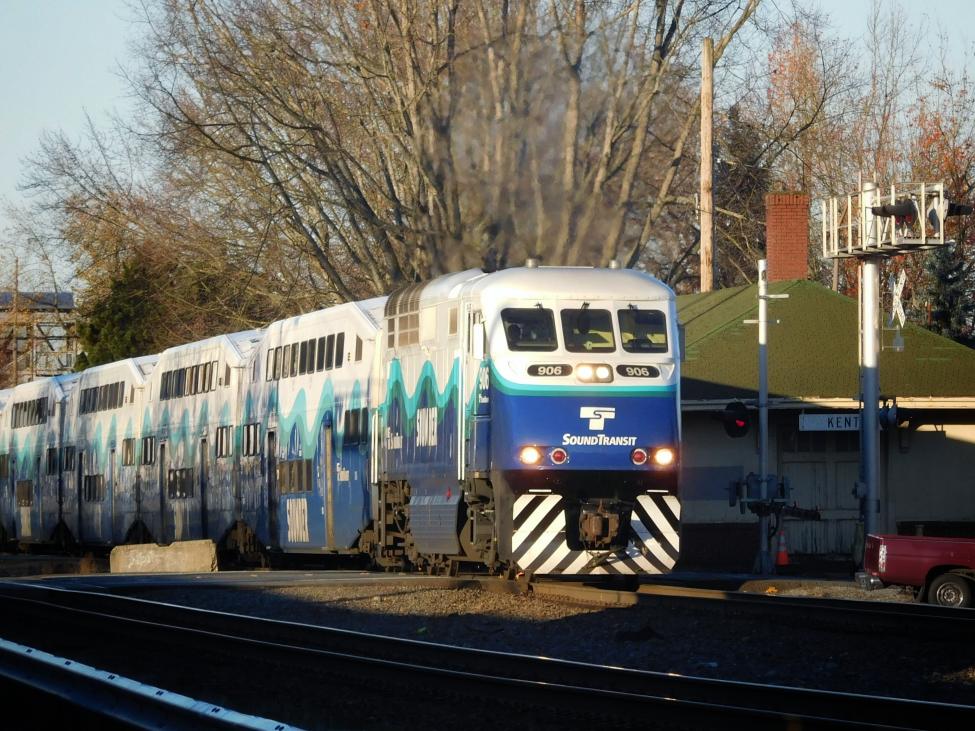 Daniel has ridden both Sounder North and Sounder South as a regular commuter to Seattle from Everett and Tacoma. "Sounder is such a great way to travel, it takes almost exactly the same time door to door as driving but it's so much less stressful and fun than being stuck in traffic on I-5."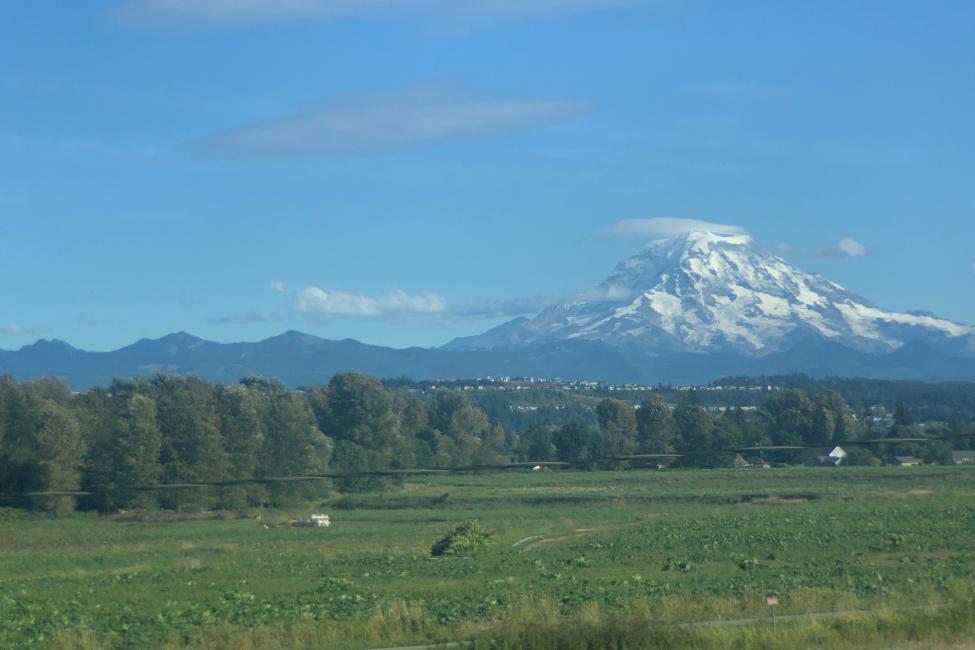 One of our riders, Spencer, said that the first time he rode Sounder, "it felt a little like the Polar Express, but that might have been just because it was December."
Chloe had a similar story: "One of my best experiences on the Sounder was when I went to Olympia via transit for work…About halfway to Tacoma it started to snow. Sitting in my seat, listening to great music and watching out the window combined to create a near perfect moment."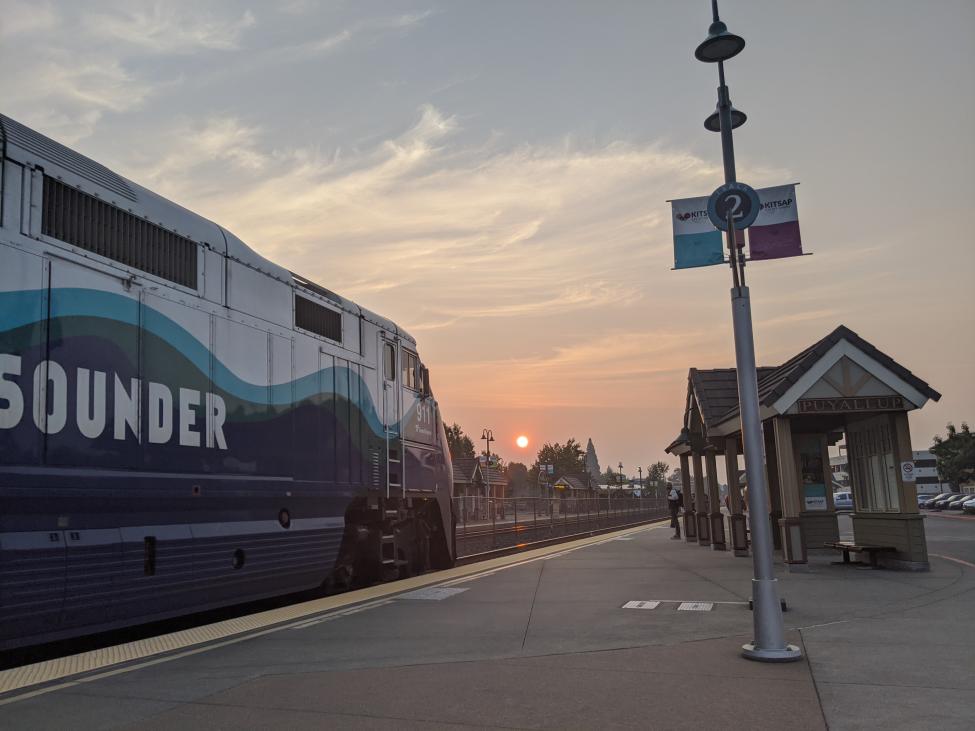 A surprising theme emerged in our passengers' memories: accidentally hopping on the Sounder train going the opposite direction from their destination.
When Spencer first rode Sounder, it was the first time he had ever stepped foot on a "heavy weight" train. "I was immediately kind of taken aback, I can just walk through a door, and be in a different train compartment? There's an observation deck too? It was at about this moment I realized—why are we getting closer to Sumner? I got on the southbound train instead of northbound. This was my own fault, and I just started laughing. Imagine having to explain to your boss that you're an hour late because you accidentally went to Sumner.
Washington native Sabrina was traveling Bellingham solely by transit after a long day of work. Here's her story:
"My first step was taking the Sounder North from King Street Station, up to Everett station... I tapped my Orca card, boarded the Sounder train and got settled into a cushy seat positioned on the second floor while I waited for the train to take off. A couple minutes went by and I heard, through my noise-cancelling headphones, the muffled train announcements mention the word 'south.' In that moment, I realized I boarded the wrong train. Fortunately, I still had a minute to spare, so I frantically gathered my belongings and rushed out to catch the Sounder North. Definitely not one of my brightest moments, but now I can say I've technically been on a Sounder North, and a Sounder South."
Shinya, who lives in Japan, was studying abroad in Seattle in 2018. Enjoying trains, they decided to take the train instead of going to Everett station by bus. "But I made a mistake and went to Tukwila station. It was dark and cold at 4:30 p.m. in December. I was scared because it was a city I didn't know. But I'm glad I got on a lot of trains! It was a very good memory. Thank you Sound Transit!"
Due to the COVID-19 pandemic, ridership is down and we can't celebrate Sounder in the ways we originally planned. We look forward to seeing everyone on board again in the future!