On Veteran's Day, Sound Transit took the chance to celebrate and thank those who have served our country, including our own employees. 
We recently established an employee resource network for our military community. Dustin York got involved because he saw it as a good opportunity to network within the agency and "to help showcase the positive impact veterans bring to the workplace." 
York, deputy director of Sound Transit's real property division, served in the Marine Corps from 1995 to 2007 - infantry for the first four years and microwave communications for the remainder. 
He's this month's subject of "Inside Sound Transit," our regular feature on the people working to make it easier to get to where you live, work and play. 
Before joining the agency in 2016, York managed security contracts for Microsoft and Sound Transit. He also ran a business with his wife, liquidating foreclosure properties for banks.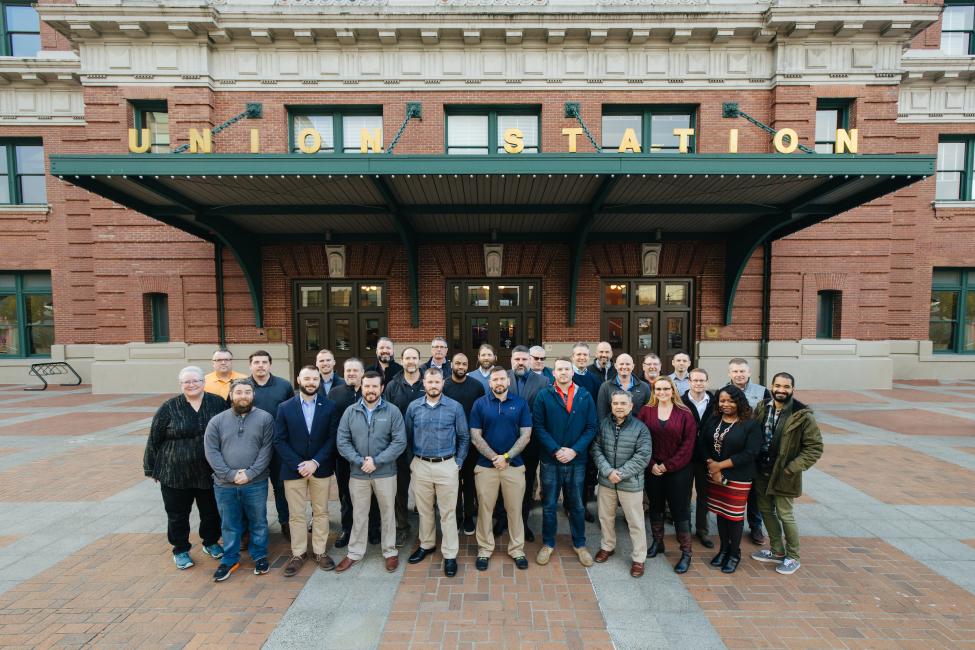 Q: What do you tell your friends you do for work?
A: I oversee the teams responsible for obtaining real estate needed to expand Sound Transit projects and services. 
Q: What's your passion outside of your job?
A: There are many; fitness – I completed an Ironman in May of 2019 and I am training for the Dopey Challenge at Disneyworld in January – woodworking, fishing and camping with family at as many state parks as I can possibly get to.
Q: What attracted you to work at Sound Transit?
A: At first, just a job. My wife and I moved from Tucson because we wanted to live elsewhere, and to serve more than ourselves. Once here at Sound Transit, it became clear to me that this was the culture I wanted to be a part of, and the opportunity to positively impact the region well beyond my lifetime made this a good fit. 
Q: How do you get to work?
A: Sounder. When the weather is nice, I like to ride to the station and take the Sounder in from Puyallup. Right now I drive my truck to Sumner station and ride in. It's been cold, so riding the bike to the station from my place in South Hill has not been working for me lately!
Q: What three things would you take with you to a desert island (besides food and water)?
A: This is a tough question. If you are going to give me food and water, then all I would need is my wife. We work well together and could figure out the rest. But if we get two more things, maybe a way to communicate with our kids as their families grow and a sailboat so we could island hop. 
Learn more about Sound Transit and how to join our team here.