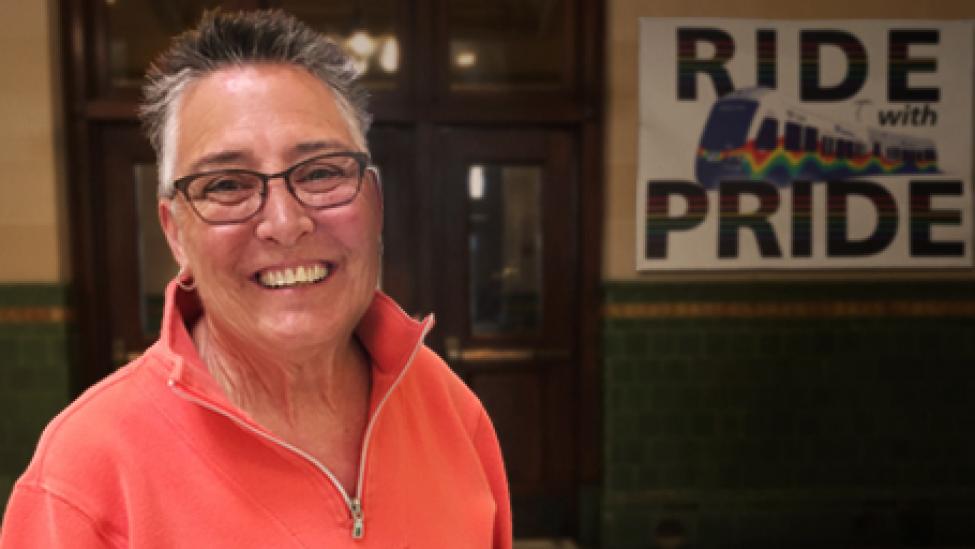 Link together: Sound Transit and Pride celebrations grow through the years
Body
Teri Bubnick, a Sound Transit employee for more than 20 years, has been involved in Seattle Gay Pride events since the 1970's. She's seen it flourish from a small but crowded festival and parade on Capitol Hill to an event that now spans the entire weekend with a parade through downtown Seattle. Teri was an integral part in creating the first Sound Transit Pride parade team in 2010 and has encouraged employee participation in the parade ever since. We recently talked with her about her work getting Sound Transit involved with the weekend festivities and how the agency's involvement has grown and changed over the years. 
When and how did you get a grassroots Sound Transit team started for Pride?
When the agency was smaller, a group of us decided to get together to represent Sound Transit in the parade. We went around to different departments to see if someone would sponsor the entry fee. The Diversity department ended up sponsoring us, and around 7 of us walked in the parade with our banner that first year.
Did you have trouble recruiting people to participate?
We went a few years without being represented, but that was more because we couldn't find a sponsor for the fee. When Executive Leadership started getting involved, it made a big difference. Participation has grown every year since then.
Why do you think it's important for a government organization like Sound Transit to participate?
Sound Transit is a very diverse agency, and there are opportunities for people to grow and learn as well as show their support. It's important for us to be involved in the community. I'm really excited about our participation with over 150 people (employees, friends, and family) signed up this year.
What is your perspective on how perceptions of the LGBTQ community have evolved/changed over the years?
When I first started going to the Pride events, people came to the parade but weren't really involved. Now it's gotten so big that all kinds of organizations participate, not just bars. Back then you also couldn't come out at work, and now more and more organizations are supporting gay rights. Big steps are also being made socially with things like the legalization of gay marriage.
It's also not just focused on Seattle proper anymore. Other cities like Burien and Olympia, all the way over to Spokane are having their own gay pride activities, and even the smaller towns are starting to join in, and it's fabulous.