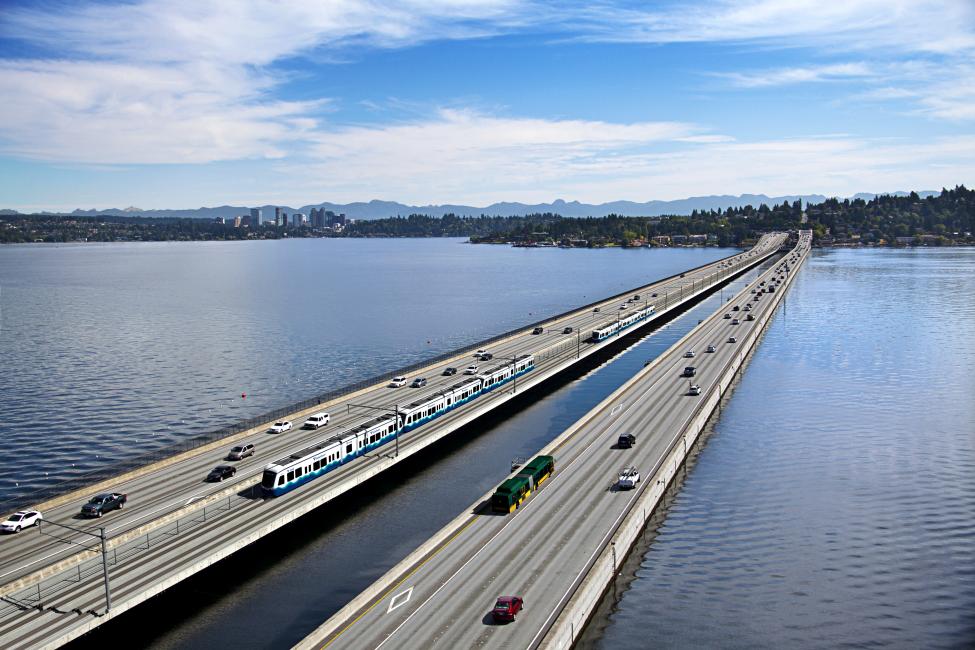 Making the I-90 floating bridge stronger, longer lasting for trains
Body
Inside the pontoons of the I-90 floating bridge, mostly out of sight, crews have stretched steel strands from one end to the other to strengthen the bridge for East Link connecting Seattle, Mercer Island, Bellevue and Redmond with a new rail line opening in 2023.  
Crews have been hard at work inside the I-90 floating bridge since June 2016. The bridge is made up of several floating pontoons with passageways between each one as seen above. 
During the East Link design process, engineers determined through wind and wave analyses that the pontoons of the Homer M. Hadley Bridge are susceptible to damage during strong north wind events. Post-tensioning, a method of reinforcing concrete with high-strength tensioned steel strands, enables the bridge to withstand stronger winds and higher waves, as well as strengthen it to carry light rail tracks and vehicles.
Crews placed 10 steel "reaction frames," each weighing 17,500 pounds, into the pontoons at either end of the floating bridge. These frames serve as the anchor points for about 3,600 feet of high-strength steel strands that now stretch from one end of the bridge to the other inside the pontoons.
Inspecting the "reaction frames" inside one of the floating bridge pontoons. 
Here's one of the plan diagrams showing where the anchor frames have been installed at either end of the bridge. The new steel cables run through all of the pontoons between the anchors and will be tightened to make the bridge stronger for running trains across. 
Throughout the rest of this year's work season, crews will continue to perform additional retrofitting work on the floating bridge. With the retrofits complete, crews will be able to begin installing track in the coming months.
Check out what this work entails as our video team takes you inside the pontoons. 
Check out previous stories from The Platform for an overview of the I-90 work and dive into the engineering details about how we'll run trains across the floating bridge.