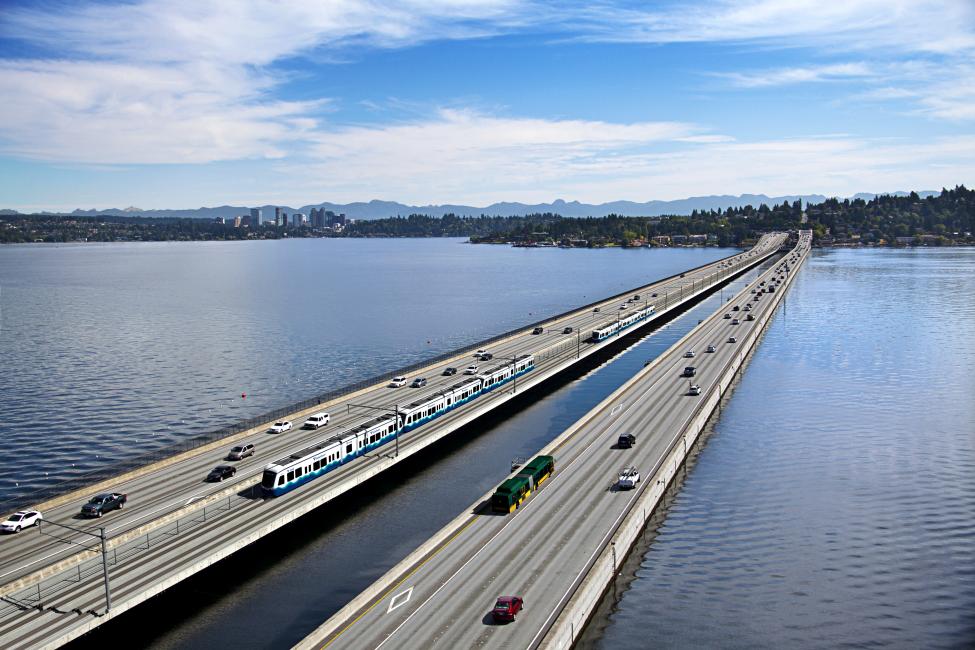 Next steps for light rail across I-90
Body
The new full-time HOV lanes on both directions of the I-90 floating bridge are open, and the center roadway is clear for Sound Transit to start construction of the East Link light rail extension from Seattle to Mercer Island, Bellevue and Redmond.
As any good cook knows, it's important to have your recipe, and all your tools and ingredients ready before you start cooking.  Similarly, the early construction happening now is to prepare for the heavy work to come.
So while you may not see a flurry of activity immediately on the surface of the bridge, Sound Transit's contractor is doing important preliminary work, much of it inside the bridge on the floating pontoons.
Here's what's happening over the first few weeks in, on and under the bridge:
Removing concrete barrier from the south side of the Homer M. Hadley floating bridge
Preparing internal components on the east side of the bridge for future work
Relocating existing electrical equipment inside the pontoons
Replacing bridge anchor cable hatches
In addition to the bridge work, contractors will soon start working on former express lanes that run from the International District in downtown Seattle to South Bellevue. This section includes prep work for the new light rail stations at Judkins Park in Seattle and on Mercer Island. You may see work going on throughout this area, including:
Demolishing barriers at the east and west ends of the floating bridge and in Judkins Park
Setting up the primary construction staging area on Dearborn Street
Retrofitting the bridge over Rainier Avenue in Seattle and at both ends of the bridge portion connecting Mercer Island and Bellevue
You'll start to see more activity on the bridge surface later in the summer. The best way to keep updated on the latest construction activities is to subscribe to alerts, and we'll be posting project updates here on The Platform.