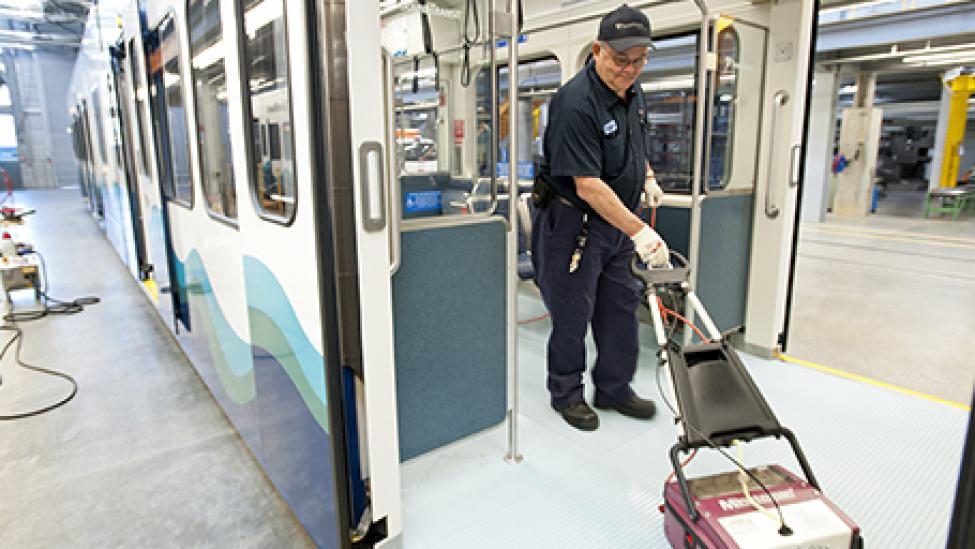 Overnight cleaning and maintenance keeps Link running squeaky clean
Body
Riders often ask why we don't operate Link 24 hours a day, or at least later on the weekends. Link light rail operates 20 hours a day and is closed from 1-5 a.m. except on Sundays when service ends at 12 a.m. These overnight closures are vital to maintain the system and ensure it's in good working order over the long run.
Here's some of what happens along the line during that time:
Signals, switches, track, overhead power and wayside equipment are inspected, tested and maintained.  
Required system maintenance that can't be done during operating hours (like when special equipment needs to be brought out on the tracks).
Preventative maintenance on the rail systems. A walking or riding inspection along the entire line is performed weekly to check for frayed cables, broken connections to rails, etc. The maintenance window allows crews time to repair defects.
Performance testing of light rail vehicles and moving vehicles in/out of maintenance.
Testing or upgrading fire, life, safety or vital control systems without passengers at the stations.
Cleaning of light rail vehicles, stations and facilities, like sweeping and mopping.
Testing and inspecting safety and emergency systems, like crossing warning signals.
We currently have 40 miles of track and systems that need regular inspection and maintenance to keep the system running smoothly. And this all happens in a 28-hour weekly work window.