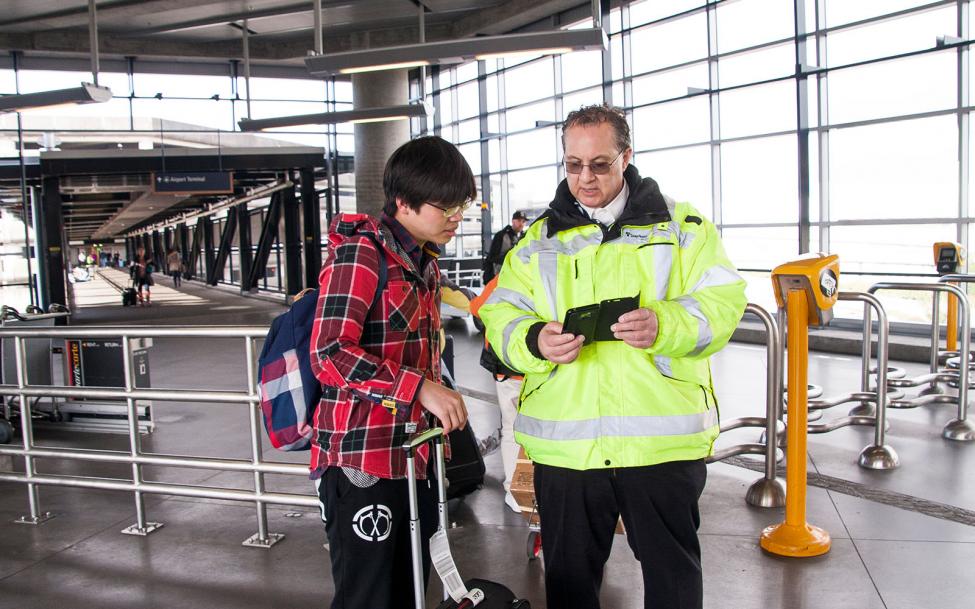 Planes, Trains and Travelers: Making connections easier at Sea-Tac Airport
Body
Ambassador, Trip Planner, Travel Agent, Concierge, Tour Guide, Customer Service Agent, Public Servant – Sound Transit Station Agent Jim Koser plays all these roles every day.
Sometimes all within the same five-minute conversation at the SeaTac/Airport light rail station.
Koser, 56, is one of the first people travelers see as they arrive at the station. He's hard to miss in his safety-yellow jacket and approachable smile. His job is to answer any question that's tossed at him about how to get from the station to a traveler's final destination and sometimes beyond.
"A lot of people want to know what's near their hotel, how to get to The Market, the Space Needle, restaurants - you name it," Koser said.
It's a busy job.
An average of about 13,000 people passed through the station on weekdays last year.
Those numbers will jump during the upcoming busy summer months and many will be first-time visitors. Sound Transit added a dedicated agent at the station in January as part of ongoing efforts to make it easier for riders to get to and from the airport and station.
Koser works a split shift from 7 a.m. to 11 a.m. and from 2 p.m. to 6 p.m. on weekdays and often spends his mid-day break taking the train to downtown Seattle so he can do his job better.
With first-hand knowledge of the city, he can tell visitors what to look for when they get off the train downtown.
"I want to know each station so I can have an image in my head of where they're going," Koser said.
Nine times out of ten, he knows off the top of his head what Downtown Seattle Transit Tunnel stations are closest to which downtown hotel.
When he can't, his phone is strapped to his arm for fast access to sort it out.
Over just 20 minutes on a recent morning he answered questions about the nearby bathrooms, helped a couple from Ohio purchase the right light rail tickets for their destination and tried to help a group that spoke limited English figure out the best way to Everett by public transit from the station. Koser was undaunted.
"I think it's great," he said as he hustled away to the next lost-looking traveler. "I'm loving it!"