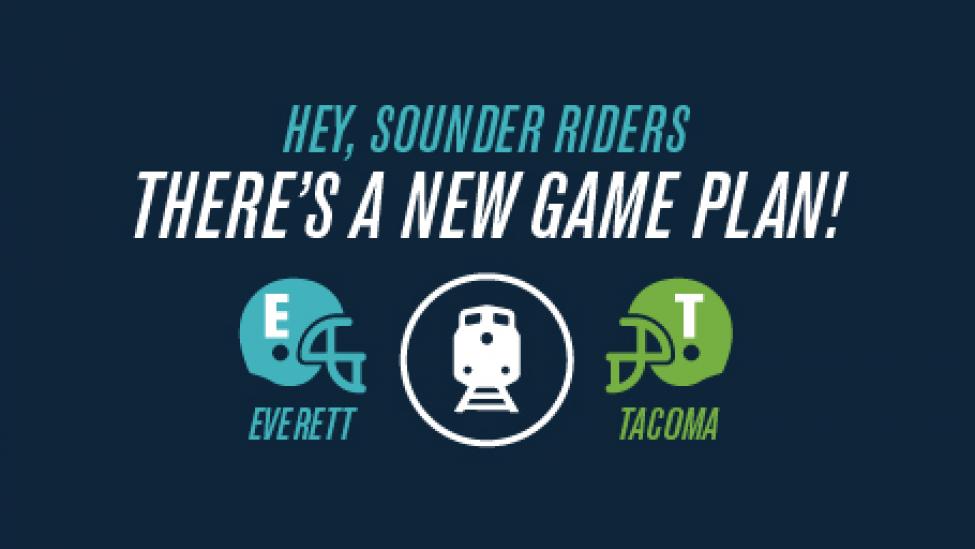 Seahawks by train: New stop for Sounder fans coming from the south
Body
Head's up Seahawks fans taking Sounder to the Seahawks from the south - your trains will arrive and depart from a new platform even closer to CenturyLink field!
Now more than ever, Sounder is the best way to Seahawks home games to avoid traffic and parking hassles if you're coming from outside Seattle. 
Follow the signs to get into the stadium and make sure to head back to your southbound train through the gate marked "Sounder South Line Tacoma/Lakewood."
The North line passenger platform and gates remain unchanged. Fans riding the North line should use the Weller Street Bridge and the signs marked "Sounder North Line Everett."
Whether you're coming from the north or south - go back to your train headed home the same way you went in. 
Sounder will serve five regular season Seahawks home games with playoff schedules (fingers crossed) to be determined.
Here are the details and schedule for each home game Sounder will serve.  
Special Sounder service is in addition to regular Link light rail, ST Express, and King County Metro service to and from CenturyLink Field.
Check our Stadium Guide for more information on getting to CenturyLink by Link light rail. 
Skip the ticket lines
Whether your riding Link or Sounder, remember to buy a round-trip ticket at the start of your day so you can skip the ticket lines after the game. 
Or better yet, use the Transit GO Ticket app to buy and store your tickets on your phone.