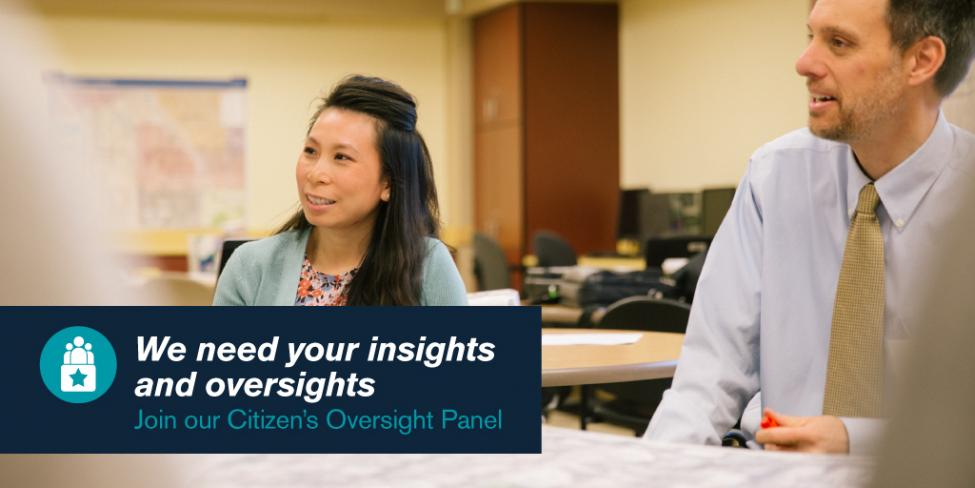 Sound Transit wants you - for the Citizen's Oversight Panel
Body
If you're passionate about transit and want to help shape the future of public transportation in the Puget Sound region, Sound Transit wants your help on our independent Citizen Oversight Panel (COP).
We currently have three openings on the panel – two for positions representing Pierce County and one from South King County. Another spot for a representative from Snohomish County will be open in spring 2019.
The COP was founded in 1997 with a mission to ensure that Sound Transit succeeds in meeting its commitments to the public.
It fulfills the mission by independently monitoring the agency's performance. The 15 COP members are tasked with being knowledgeable about the agency's actions and plans, reviewing programs, asking hard questions and reporting findings back to the Sound Transit Board of Directors.
The COP members serve four-year terms and come from a variety of backgrounds throughout the areas where we provide express bus, commuter rail and light rail services.
Members must be a registered voter in the Sound Transit District and commit to attending two meetings a month during business hours, and additional meetings as needed.
COP members represent a variety of backgrounds, interests, professional expertise and experience.
Learn more about the Citizen's Oversight Panel and apply here.
Sound Transit actively seeks to include persons from diverse backgrounds and professional areas of expertise to support agency oversight, planning and operations. Persons of color and women are encouraged to apply.
The Sound Transit Board will review and confirm the appointments.
Applications will be accepted until the positions are filled – don't miss this opportunity to represent your community and bring your unique capabilities to this important oversight body.