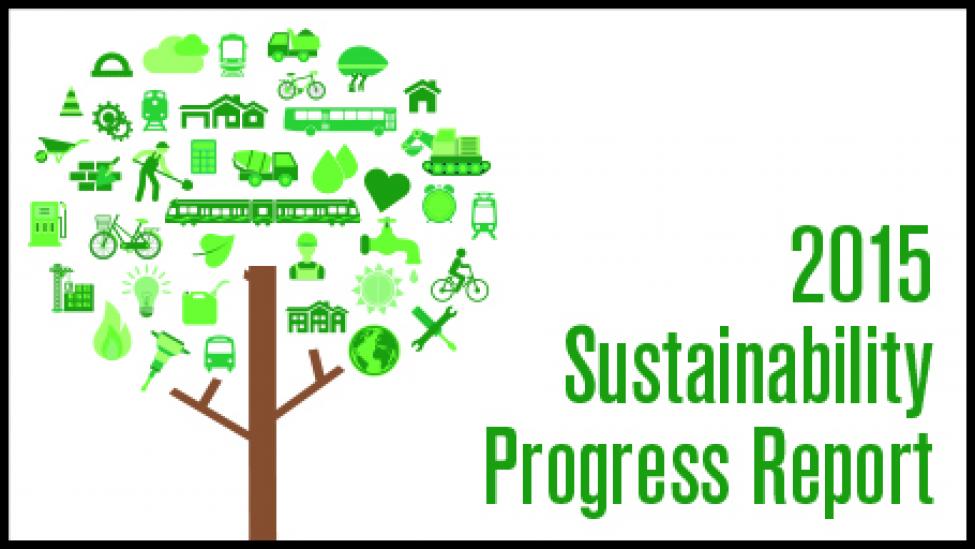 Sustainability progress report: improving regional quality of life
Body
Being green is a big deal at Sound Transit. That's why we publish an annual Sustainability Progress Report that looks at how we're doing.
The latest sustainability report shows that in 2015 we moved more people on our trains and buses than ever before and we used less fuel to do so. Because of that, and thanks to our riders, we not only reduced our own environmental footprint, air pollution was cut throughout the region. Generally, passengers taking Sound Transit instead of driving save the region 138,600 tons of greenhouse gas emissions every year. Looked at another way, that's roughly equal to the greenhouse gas emissions from powering over 20,000 homes for one year or burning more than 70 rail cars of coal.
Here's a look at some of the other highlights in the 2015 Sustainability Report:
Sound Transit carried nearly 35 million passengers in 2015, a record for the agency.
Sound Transit maintained its clean environmental record – no permit violations across the agency's construction projects – for a fourth straight year.
Sound Transit made a financial commitment to sustainability by executing $1 billion in environmentally-friendly "green" bonds – the largest ever sale of municipal green bonds worldwide. The bonds are helping fund Sound Transit projects.
The agency became one of only two transit agencies in the nation to earn Platinum level recognition for sustainability leadership from the American Public Transportation Association.
There's more to see in the Sustainability Report here.