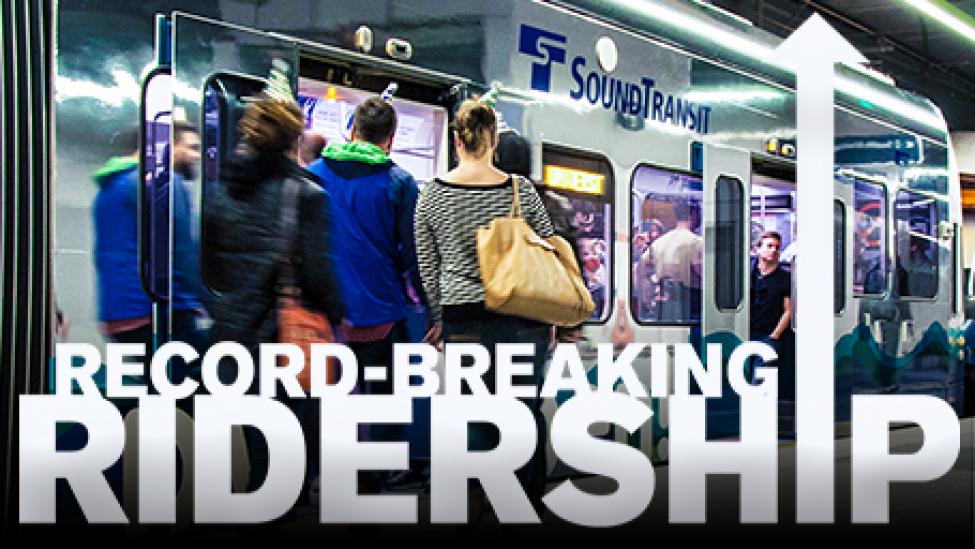 University Link ridership sprints out of the starting gates
Body
Ridership on Link light rail since opening Capitol Hill and University of Washington stations is exceeding expectations and set new single-day ridership records. 
Here's a look at the ridership estimates from March 18 – April 10. It takes at least a week to verify passenger counts coming off the train equipment, so these numbers may change slightly as more information comes in.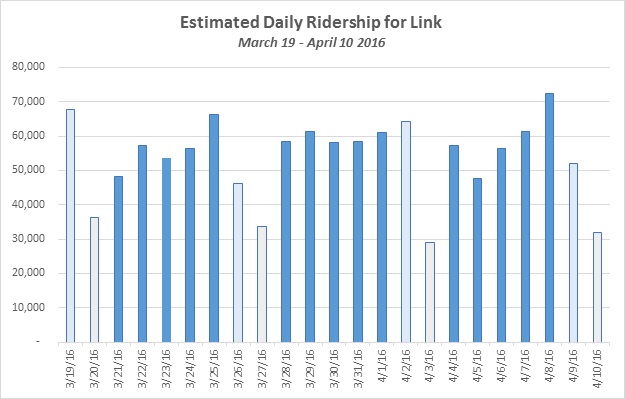 Average weekday Link ridership is settling into the high 50s range in the few weeks after UW returned from spring break and our partners at King County Metro implemented a major restructure of their Northeast Seattle bus service to integrate with U Link.
That's a roughly 66% increase over the 35,000 average weekday ridership before U Link opened. Sound Transit estimated average weekday ridership of 51,800 for the year.
Link set a new single-day ridership record on April 8 with more than 72,000 estimated riders. That breaks the previous single-day record of an estimated 71,500 on February 5, 2014, when Seattle celebrated the Seahawks Super Bowl victory downtown. The confluence of the Emerald City Comicon in downtown Seattle, the Seattle Mariners home opener and a beautiful spring day helped drive the incredible ridership that day.
Other notable special events over this time period include the Washington State Department of Transportation "Go Long" celebration of the new State Route 520 bridge with special events on April 2 – 3. The starting point for these celebrations was adjacent to the UW Station.