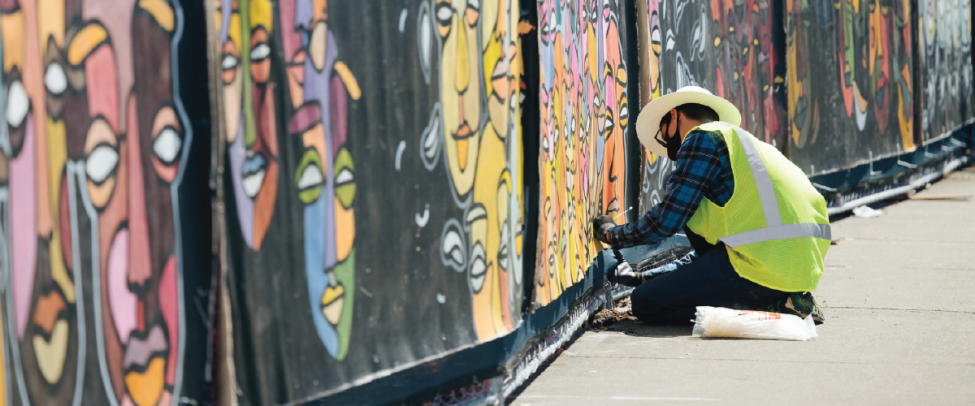 2020 Year in Review: Construction continued during an unprecedented year
As 2020 draws to a close, we want to pass along our sincerest thanks for riding along as Sound Transit celebrated many project milestones on the Federal Way Link Extension. Even with the many challenges this year brought, our FWLE project team worked hard and stayed committed to bringing the project to reality. Our work included: 
Securing additional project grant funding 
Progressing station designs
Closing Star Lake Park-and-Ride to prepare for station construction
Hosting a virtual groundbreaking event
Relocating utilities
Demolishing structures 
Clearing and grading 
Mass excavation and hauling
Midway landfill removal of refuse and installation of a new liner
Starting drilled shafts and column construction for aerial guideways 
Read on to learn more about these exciting 2020 milestones! 

In January, the Federal Transit Administration awarded FWLE a $790 million Full Funding Grant Agreement. This grant plays a key role in the $3.1 billion project. In addition, the U.S. Department of Transportation's Build America Bureau executed a $629.5 million low-interest loan supporting the project. The one-of-its-kind agreement should save regional taxpayers between $200 million and $300 million through lower interest costs.
At the same time, crews focused on preparing for construction of the guideway. Our dedicated team of engineers, construction experts and project staff collaborated and advanced design work, permitting, and construction.
In March, the Star Lake Park-and-Ride was permanently closed, allowing us to make way for the construction of a new Link light rail station and garage on the site. 
In early spring, the public weighed in on updated designs for the Kent/Des Moines station area and South 272nd Street station area and parking garages. 
In July, we celebrated the start of construction! Thank you to the leaders on the local, state and national levels as well as community members, organizations, business owners and artists who volunteered their time and talent to be a part of our virtual groundbreaking ceremony. 
While traditional in-person neighborhood briefings could not take place due to ongoing social distancing restrictions, we shared updates through a project video. We released our first video in September and provided an overview of the entire project. You can watch it on our YouTube page. The video is available in English, Korean, Spanish and Vietnamese. In 2021, we'll share more detailed videos for SeaTac, Des Moines, Kent and Federal Way. We also launched a Facebook group keep you informed about the latest construction progress.
STart, the Sound Transit art program, enlisted local artists to create more than 100 murals. STart installed about 40 of these unique pieces of public art in August and more in September. Unfortunately, several of these works were vandalized shortly after installation, so Sound Transit worked to restore the damaged murals and took additional security measures to prevent further damage. You can see the murals along construction fencing near the Kent/Des Moines area station and in Federal Way near the Transit Center. Learn more about the art and artists.
In October, the project marked the beginning of building the light rail guideway with construction of drilled shafts at the site of the future Kent/Des Moines station area. In preparation for this, crews demolished buildings, relocated underground utilities, cleared vegetation, and leveled the ground. Though construction involves some tree removal, this reduction is only temporary. We'll plant thousands more trees than we remove for the project. Click here for more information on our tree removal and replacement program.  
Some of the most significant work has been at the Midway landfill, where waste material has been excavated and replaced with fill material for construction of at-grade tracks. 
By 2024, Federal Way Link and other extensions currently under construction will expand the region's light rail system from 22 miles to 62 miles and from 22 stations to 50 stations. After Federal Way Link opens in 2024, riders will enjoy fast, frequent and reliable service between South King County, the University of Washington, downtown Seattle, the Eastside, Sea-Tac Airport and Lynnwood. The extension includes three new stations serving Kent, Des Moines and Federal Way.
For more information on the Federal Way Link Extension and to sign up for project updates, visit www.soundtransit.org/fwlink.
 
Join the Federal Way Link Facebook Group
Are you a Facebook user? Want to stay informed about the latest construction progress, see cool photos and engage with the project's community engagement team?
If so, you can join our new Federal Way Link Facebook Group, where we'll answer your questions and share frequent pictures as the project progresses.