Building more South Sound connections
Body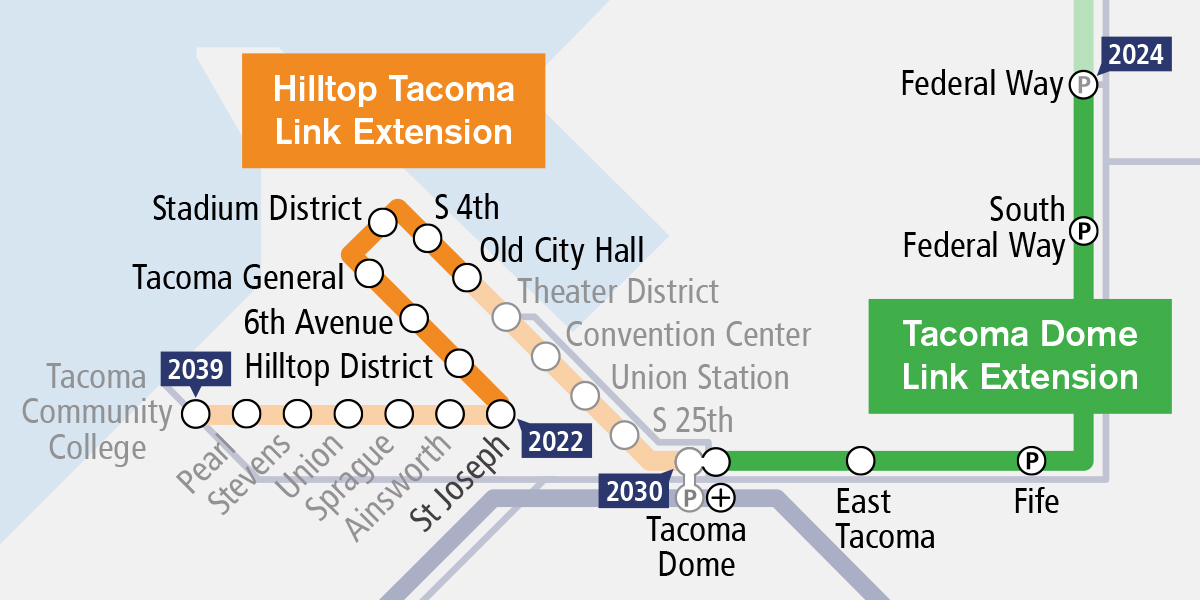 We're currently working on two Link extension projects that will connect light rail to the South Sound: Hilltop Tacoma Link Extension (formerly Tacoma Link Extension) and Tacoma Dome Link Extension.
Tacoma Dome Link Extension will connect regional light rail from Federal Way to the Tacoma Dome with service scheduled to start in 2030. At Tacoma Dome Station, riders will be able to transfer to the neighborhood Tacoma Link line which will extend all the way to Hilltop by 2022. These projects are a critical part of our region's long-term transportation network and will help move more people to and from Sea-Tac Airport, major medical facilities, community centers, schools and restaurants.
Hilltop Tacoma Link Extension
Questions? Contact Lauren Wheeler
206-903-7004
Tacoma Dome Link Extension
Questions? Contact Wilbert Santos
206-903-7118
Help shape Tacoma Dome Link Extension
This South Sound Link project is in the early stages of planning and we're looking for your feedback. Our early scoping comment period is open now through May 3.
Attend an open house and learn more about the project, meet the project team and provide your comments. Can't make it in person? Submit your input online by May 3.
Tacoma Open House
Tuesday, April 17, 6-8 p.m.
Best Western Plus Tacoma Dome Hotel
2611 East E Street, Tacoma, WA 98421
Federal Way Open House
Wednesday, April 18, 6-8 p.m.
Todd Beamer High School
35999 16th Avenue S.
Federal Way, WA 98003
Fife Open House
Tuesday, April 24, 6-8 p.m.
Fife Community Center
2111 54th Avenue E.
Fife, WA 98424
Building more Tacoma Link
Our Hilltop extension project is moving into the construction phase and the Community Outreach team is committed to keeping you informed and engaged, while minimizing impacts. We regularly staff community events and hold project meetings, briefings and drop-in sessions. We also provide a 24-hour construction hotline and give you advance notice of construction work they may impact your neighborhood.
Stay informed
Stay tuned for project updates, and subscribe to our project email list by visiting soundtransit.org/subscribe.