Check out early concepts of parking and station improvements!
Body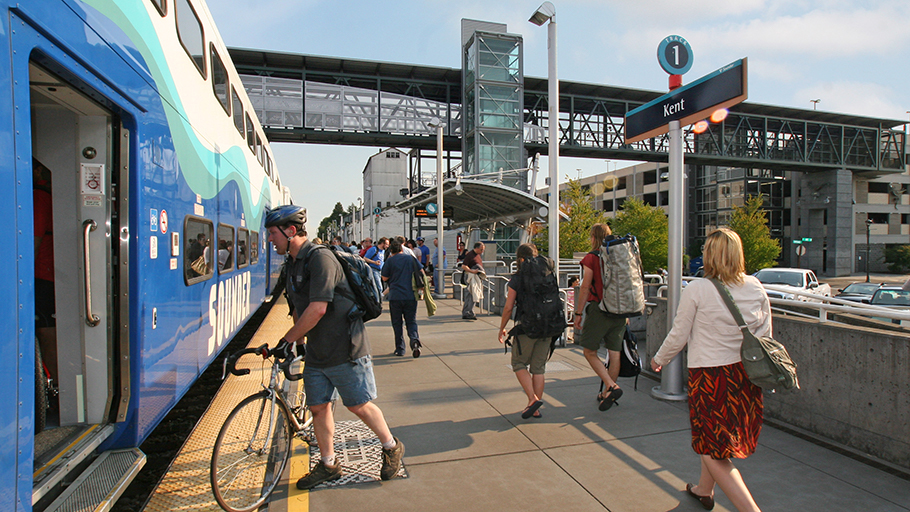 We're building a new parking garage at East James Street and Railroad Avenue North and improving pedestrian, bicycle and bus access in the area to give more people convenient access to the Sounder train. The garage, with approximately 530 parking spaces (460 net new), is anticipated to open in 2023.
We're working closely with the City of Kent to refine the garage layout and other potential improvements. Come get an update on early concepts and let us know what you think.
In-person open house:
Thursday, Oct. 18
5:30 – 7:30 p.m.
Green River College, Kent Campus, Room 283
417 Ramsay Way, Kent
Can't make it in person? Visit our online open house to view early concepts and provide feedback. Available now through Oct. 26.
More about the Kent Station project
The Sounder commuter train travels between Lakewood and downtown Seattle with 13 roundtrips each weekday, providing reliable and convenient connections to Kent and eight other stations along the route. Currently, the Kent parking garage fills up early every weekday.
In November of 2017 the Sound Transit Board identified a preferred package of access improvements for Kent Station, including a new parking garage at East James Street and Railroad Avenue North, along with pedestrian, bicycle and transit improvements.
In addition to refining the garage layout and other improvements, we're also evaluating potential environmental impacts and possible mitigation measures. We will issue the results of this evaluation for public review and comment in spring 2019.