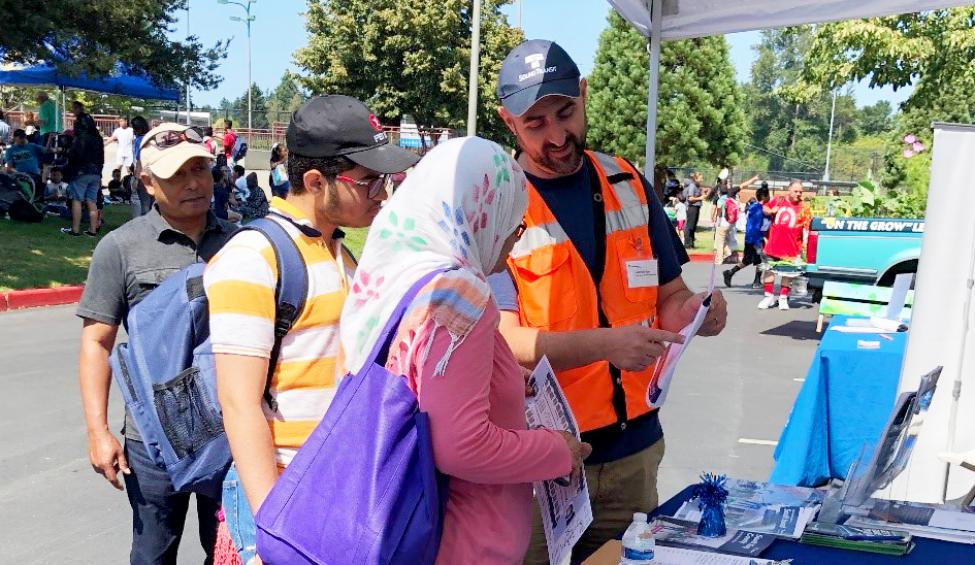 Connecting with the community
Sound Transit engaged more than 1,000 community members this summer sharing project information and answering questions at events in Federal Way, Des Moines, Kent and SeaTac. Visitors to our booths had the chance to speak with the project team about what to expect along the project route, the project timeline and construction details. In addition to information booths at fairs and festivals, the Federal Way Link Extension (FWLE) project team hosted nine neighborhood briefings where community members learned more about upcoming Sound Transit work in their neighborhood. 
This fall we are hosting in-person and online open houses to provide more details about what to expect during construction and to give community members an opportunity to provide input on station names. 
Federal Way Link Extension Open House: Wednesday, Nov. 13, 6-8 p.m. at Highline College, 2400 S. 240th Street, Building 8.
Federal Way Link Extension Open House: Wednesday, Nov. 20, 6-8 p.m. at Federal Way Performing Arts Center, 31510 Pete Von Reichbauer Way S.
Come for a presentation at 6:30 p.m. or stop by anytime from 6-8 p.m. to ask questions and learn more about the project.

Can't make it to these events? Information from the open house will be available online. Stay tuned for updates, including the link to the online open house.
In case you missed it: FWLE milestones 
Summer activities are winding down, but construction of the Federal Way Link light rail extension is set to begin in spring 2020. The start of construction next year might seem like the first big step to light rail service coming to Federal Way, but Sound Transit has been working behind the scenes to bring this project into reality since 2012. Past milestones include: 
Late 2012 to Mid-2013: Identified all the possible routes to extend light rail from Angle Lake Station in SeaTac to Federal Way.
Early 2015: Published the draft Environmental Impact Statement (DEIS), and the ST Board identified a preferred alignment.
Late 2016: Published the final Environmental Impact Statement (FEIS).
January 2017: Selected the official FWLE route and station locations.
Mid-2019: Selected Kiewit Infrastructure West as the design-build contractor for the project. 
From now through the end of 2019, the FWLE project team is gearing up for construction with the continuation of the final design process. Early construction activities will include some utility relocations and demolition of some structures along the route.  
In the spring of 2020 to mid-2023, Kiewit will construct the alignment and the stations. After construction is complete, light rail systems activation and testing will begin, and take about a year to complete. 
In 2024 the completed FWLE Link light rail project will provide fast, easy and convenient connectivity from Federal Way to all around the Puget Sound region.